Options
Mark as unread

Mark as read

Float to top

Bookmark

Subscribe (email)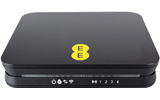 by
XRaySpeX

Grand Master
Changing Your WiFi Password on a Smart Hub
‎11-10-2019 01:42 AM - edited ‎11-10-2019 02:43 AM
You may have seen in the News that some ISPs have had a security breach whereby their users' routers WiFi passwords have been hacked. You might want to change the WiFi password of your EE Smart Hub router in case a similar attack is made against EE's routers. It is a good idea anyway to not use the default password as supplied with the router & which you will find on the slider at the back of the router. You can do this by following these steps:
Browse to http://192.168.1.254 (This is the default local IP address of your router. If you've already changed it, use your own) on a computer or device that is currently connected to your router (either wired or wirelessly).
Click on the "Advanced Settings" tile followed by the "Wireless" tile.
The router login screen appears. Enter its Admin password as printed on the bottom of the product label on the slider of your router (This is the default Admin password of your router. If you've already changed it, use your own.) & click 'OK'.
The Advanced Wireless settings page appears. Near the foot of the page you will see in the Security password box the default WiFi password in clear as printed on the product label of your router. Here overtype the new wireless password that you want to use. The password must consist of 12 to 63 alphanumeric characters.
It is also a good idea to separate the wireless channels by turning ON the button near the top to Separate the Bands. . Then the 5GHz SSID (Network Name) will appear starting with "5GHz-" & the 2.4 GHz SSID not starting with "5GHz-". You may then change both of the SSIDs independently. They don't need to be the same but usually are.
Click the Save button at the top of the page.
Reconnect your wireless devices to the router using the new wireless settings.
It may be wise to also change the router's Admin password on the "Advanced Settings" > "System" page..
If you ever factory reset your router, the default WiFi password, default Admin password & default SSIDs will come back into play. So don't forget to change them back to your chosen passwords & SSIDs.
__________________________________________________________________________________________
If you think I helped please feel free to hit the "Thumbs Up" button below.

To phone EE: The local rate landline number +44 207 362 0200 or Freephone +44 800 079 8586 - Option 1 for Mobiles; Option 2 for 4G WiFi; Option 3 for Home Broadband & EE TV.

ISPs: 1999: Freeserve 48K Dial-Up => 2005: Wanadoo 1 Meg BB => 2007: Orange 2 Meg BB => 2008: Orange 8 Meg LLU => 2010: Orange 16 Meg LLU => 2011: Orange 20 Meg WBC => 2014: EE 20 Meg WBC