2spellstrouble
Guest blogger
As a parent of two school-aged children, I'm always worried about what my kids might get up to online. I think I've brought them up to make sensible enough decisions, but you just never know, and I want to make sure they're secure as best I can.

I've tried talking to them in the past about some of the dangers lurking online, from trolls to paedophiles, and it seemed to sink in. However, I think you can never be too careful and it's always good to remind them.
Safer Internet Day (SID) on February 5th is the perfect opportunity to do this. It's a globally recognised day where organisations come together to promote the safe, responsible and positive use of technology for children and young people.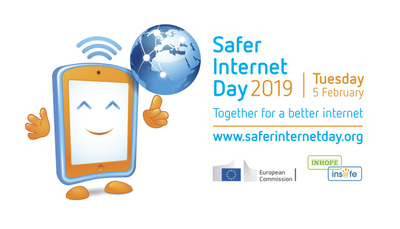 Safer Internet Day logo
EE is one of the organisations that are supporting SID, and they're asking all parents to have a conversation with their children about creating, connecting and sharing safely online. The key focus this year is on the crucial issue of consent in an online context, and asking young people to think about how they ask, give and receive consent online.
Having a conversation about internet safety and consent with your children
How might you begin such a conversation with your children? Well, you could start by asking them all about what they enjoy doing online and how they interact with others. This could lead to a discussion about where to go for help if they're concerned about anything (there's loads of useful info about this on the Internet Matters website).

By talking to them you'll not only be more aware of what they're getting up to, you'll able to spot potential dangers. For example, chatting to people they don't know online, replying to messages they've been sent by strangers, or commenting on videos that involve their schoolfriends. It'll also make them think twice about what they're doing in future.

Also talk to them about the importance of developing a good digital footprint – once you've posted something online it's there for the world to see.
Exploring the internet - safely
As your kids get older they'll start to explore the online world more and more, so it's good to make them aware that you're there to support them and not judge. Encourage them to question what they see online and not just accept it as it may not be right. And if in doubt, they should tell you.
For support in talking to your children about dealing with online issues and opening up about their digital lives, Internet Matters has a new campaign called #Pledge2Talk for Safer Internet Day. There's a mine of useful information on their website and I can't recommend it highly enough.
Extra measures to take to keep your children safe online
As well as making your kids aware of dangers, there are a number of extra measures you should take to help keep them secure. One of the most obvious is the Content Lock feature, which prevents them from accessing age-restricted sites. It's easy to set up and can give you a lot of peace of mind. If you've given your child a second-hand phone from a friend or a family member (I think I'm the only person I know who bought their child a new phone!) call 1818 to check if Content Lock is on – or use the My EE app or website to check.

You can apply a "Strict" Content Lock setting for an under-12 (which I absolutely recommend). Just text the word STRICT to 879 from your child's device or use the My EE app or website. Don't forget that if your youngster is connected to WiFi then you'll want to make sure that the 4GEE WiFi is also set to the correct setting. However there are some apps and encrypted sites that won't be blocked by any content lock setting, so it's really important to stay aware of what your kids are doing online.
Using the MyEE App really does make life a little simpler here – you can easily link your account to your child's and set up the Content Lock through that. You can also restrict things like data usage, and Data Gifting is really useful too; I find it helps me to stay aware of how much data they're ploughing through each month as they have to ask you for more when they run out. My son only gets limited data so he's careful about how much he uses outside of the home. The app gives me the flexibility to do that. It's probably not much, but it makes me feel better to think that he's not got enough data to spend his time aimlessly searching for content that I don't want him to see, and it also allows me to switch off data for him when occasion demands.

What do you do to keep your children safe online? Have you got any tips to share?
#Pledge2Talk
Read EE's article about what you can do to keep your children secure online>
And for more helpful advice, guides and conversation starters take a look at the Internet Matters website.
To find out more about switching Content Lock on (or off) visit EE's Help page>
1 Comment
You must be a registered user to add a comment. If you've already registered, sign in. Otherwise, register and sign in.