Joe
Former EE Community Manager
Hi guys,
I wanted to start giving you all regular updates on all things happening in the app world.
This week I thought I'd bring an app to your attention that I've been using for about 7 days - and its really fantastic.
Mailbox by Orchestra; a beautifully presented, intuitive and organised way to tackle your gmail inbox, and it may even change the way you work with your emails forever (I realise thats a bold statement, but bear with me!).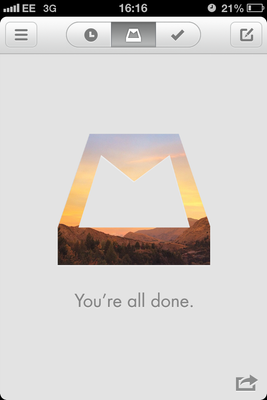 If you've ever used an app called "Clear", you may be familiar with the way the user interface works in Mailbox. A simple system of swiping and gestures files away your incoming mail into dedicated slots, which is replicated within your actual gmail online account.
The basis of the app is to attempt to always keep an "empty" inbox, deciding immediately how you want to deal with an incoming message. For instance, if you receive an email which you've read, doesn't require a response, but you're happy to store away safely, simply swipe the message block to the right until the green arrow appears. This will then clear the email from your inbox, leaving you with other remaining emails.
Repeat this process to attain the strangely aesthetically pleasing "You're all done" message, equipped with a pretty image that you can even tweet to show off. When you reach "zero" on a daily basis, you start to feel much more in control of your communication.
The app works just like the gmail application, with the same polished animations, push notifications and syncing. Be sure to switch off your gmail notifications (or uninstall) if you already use that so you don't get double alerts.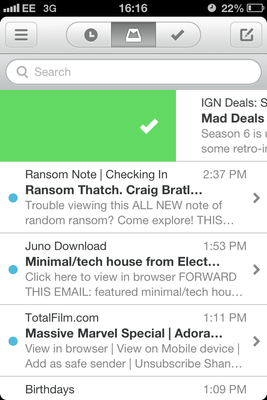 You also have the option to keep sliding the message further right, which will send it to the "deleted" folder super quick.
The other option you have as a way to deal with incoming mail, is simply the "Do it later" feature. If you swipe the message to the left of the screen instead, it gives you the option to be reminded of the mail at certain times, represented by simple icons. Got an email from the other half that you want to look at after work? Click "later today" or "this evening". Need to make sure you've got the right boarding details from an email but nearer the time? Click "In a month". You can even assign your own bespoke time to be reminded.
This function really is the dealbreaker for me and its a joy to use - its essentially a functional snooze button and just another excellent use of intuition and dynamic thinking.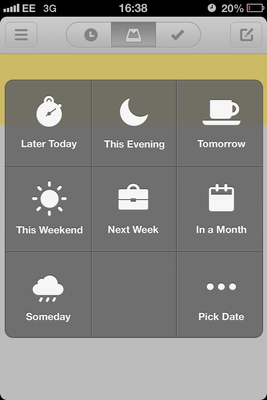 The smoothness and fluidity of the app are its real standout features; this feels like an Apple designed product, and I wouldn't be surprised at all if the next iOS were to incorporate certain elements that have proved all too popular with this sort of application.
The presentation of the app is beautifully brought to life with cool greys & flecks of vivid colour to liven up the UI.
Its worth noting that (presumably because of its popularity, or just a PR technique...) there is a waiting list to use Mailbox. Saying that, I was at number 250,000 in the queue, and around 5 days later I got a notification saying all was ready. I logged in, it swept up my gmail, and gave me a super friendly tutorial to what is one of my favourite, most practical apps on iOS yet. Best of all, it's FREE!
Do let me know what you think if you give it a go - sorry this first little review isn't for an Android/Windows application, but rest assured they will be on their way too!
Any questions? Are there any other apps out there that sync and work as nicely as this one? Which mail apps would you guys recommend?
NB: If you do like this app, do take a look at Clear for iOS too. Its a simple "To Do List" idea brought to life with a super simple layout and gesture system. Definitely one to check out; another app I use daily both on my computer and my handset.
Finally, if you feel the need to review or recommend apps yourselves, do get involved and start some discussions - I'd love to hear your thoughts.

Thanks

Joe
Community Manager
2 Comments