eimearvbarry
Guest blogger
If you've been following me on social for a while, you'll know that we have moved house twice in the last year! I have always dreamt of having a beautiful home, especially when travelling and working around the world. I was so ready to settle somewhere when I met the girls' Dad. I never set out specifically to do the job I do today - it really did kind of happen by accident. It's a mix of every job I've ever worked at in my life and I have used all that experience to build the business I have today.
I remember the point where I realised I needed an actual desk and a workspace. And some additional digital appliances to take my work to the next level. I'm really happy to be partnering with EE to give you tips on how to create the perfect home office. Also, how you can create a space where you are connected to your devices so you can work as efficiently as possible. That's what we want in this day and age, right?!
From the beginning, most of the work I was doing was digital and I needed the Internet. I would work (like most people setting up a company) from the kitchen table but it wasn't ideal. I love the idea of sitting down and feasting as a family and having everything on the table really annoyed me, but with us being in such a small place, realistically, what could I do? I worked from the sofa / bed a lot too but it hurt my back so much and I would usually just fall asleep. I dreamed of a workspace like the one I have today! (I know it's not a massive office or anything, but I love it and I'm so proud of it!) From my experience, here are some tips on how I made my work life a bit easier, aesthetically pleasing and more productive.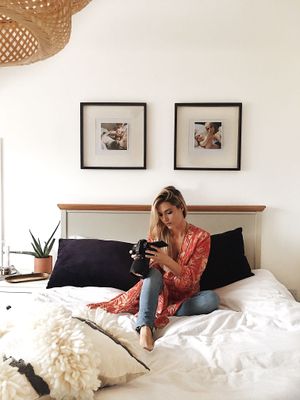 Here I am working from my bed... Not the ideal home office
1. Finding stylish, sturdy furniture!
Sitting up makes me feel so much more alert. Yes, I do sometimes still grab my phone/laptop/iPad and lie on the couch/bed with it when I'm feeling lazy. But that's only when I'm sort of scrolling through sites for inspiration etc. When I have a lot of emails and admin to do, I need to be sitting up and feel as focused as possible. I know freelancers work from home and as one myself, I've learned that it is so much better to separate your work life from your home life in the house/apartment. This can be done on the cheap- I promise! I bought this stylish cushioned chair on eBay for around £40.
My desk is from IKEA and it was a bit more expensive, but one thing I've learned about having an office desk- it's worth paying a bit more for quality because it cannot fall apart like my last desk did!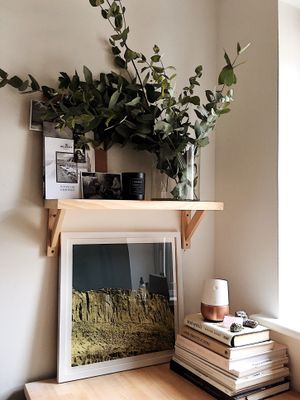 The shelf is from Amazon and was £8.50! How good is that?! It's not flimsy or cheaply put together either which is a massive bonus. I really like the untouched wood affect. I feel like you can make this wood work with whatever style you'd like to create in your little space.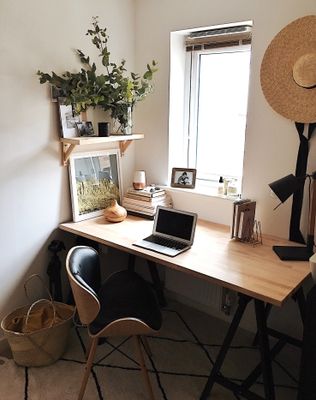 This photo just shows you don't need to spend a fortune to have a stylish home office
2. Investing in reliable, fast internet that you'll never have issues with.
I wouldn't be able to do any of my work without the Internet. I'm able to get 4G in my area which is on my EE iPhone, so it's super quick when I'm out and about. I'm a bit impatient when it comes to internet speed!
Being able to send the photos from my camera to my phone, to be able to send the content to companies, upload them onto my platforms, print out contracts, do all my admin, well...having reliable internet is the one thing I absolutely need. All of this I can do from my phone which is handy if I'm working from anywhere else.
I recently got a smart speaker which is really one of those devices which makes you say, "I don't know how I lived without that"...I know, I cringe a bit saying that, but it's true. It's so handy. I love streaming chilled, acoustic music when I'm working and it's really nice to have it on in the background when working. I think it's brilliant that EE give their pay monthly customers six free months of Apple Music too. More importantly, they cover the data you use to stream from Apple Music, so it won't be taking up your own - for this to work you just need to make sure you have some data left on your plan. Easy!
3. Using devices that connect to your phone.
With very limited time to work (mom of two and all that) I need things to run as easy as possible for me. Most of the contracts I sign are digital, but there are still a lot that need to be printed out, scanned and physically sent back. I got a digital printer because it connects via an app and it makes the whole process so much easier. It sends whatever is scanned to my phone and I'm able to send it on immediately. All of my devices are connected to each other, which is really handy and as I mentioned, the EE 4G is super quick on these occasions.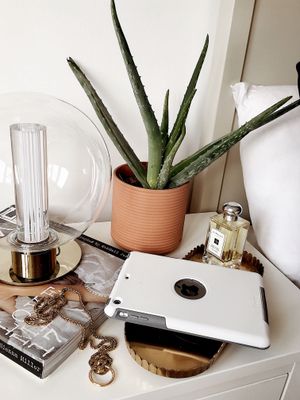 4. Having two separate back-ups.
Google Photos and iCloud are amazing, but I had a mix up with my account, a couple of years ago and ended up losing a lot of valuable photos. Whether you are a photographer, an accountant, a music producer or solicitor, if you have anything valuable at all that you really do need to keep, then you need to have a second back up onto a hard drive.
5. Treating your office like an actual office.
Honestly, I don't like the idea of telling people what to do or what to wear etc BUT I think the first way to treat your office like an actual office is to not stay in your PJs and get into actual clothes before you sit down to work. As tempting as it can be, it's all about separating your work life from your home life and it'll probably make you feel more productive. I would also recommend setting little routines and giving yourself breaks, as you would have in an outside office /workspace. It's easier said than done when you have a copious amount of work to do, but it'll improve the condition of your state of mind and that's what it's all about! I also find adding in a bunch of flowers or foliage makes the space prettier!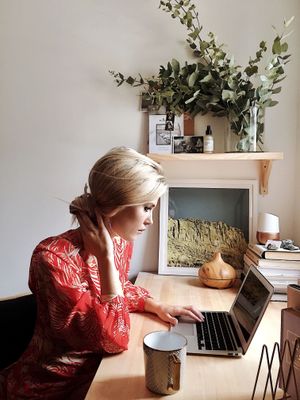 Practise what you preach: no PJ's here!
6. Where to position your desk.

Now this is an important one because we are all different and I'm not going to tell you to position your desk next to a window when that may not work for you at all. Personally, I feel a bit claustrophobic up against a wall. I think it's because I'm not a numbers/academic person...more of a creative, so I'll find myself looking out the window to think about things a lot. I know I have a lot of freelance workers following me - would be interesting to know what works for them!
Let me know by tapping 'comment' below
3 Comments
You must be a registered user to add a comment. If you've already registered, sign in. Otherwise, register and sign in.