EmilyNorris
Guest blogger
EE offers six months of free Apple Music to its customers – it's a great perk and here's how I made the most of our six months free Apple Music offer with EE.
EE's Apple and Android 'pay monthly' customers are treated to six months of free Apple Music and what's even better is that EE covers the data for streaming too (conditions apply). I was worried about how much data would be used up by streaming music but this offer means EE will cover the data you use to enjoy it, so you can stream and download music without using up your mobile data allowance. Which means more data and music for you and your family to enjoy for six whole months!

New customers can text MUSIC to 150, and they'll instruct you from there on how to access it and existing customers can text STREAM to 150 to get started.

Tips on how to make the most of your free six months:
1. Go Offline
Until recently I didn't realise that you can listen to Apple Music offline so you don't have to solely rely on a connection. You can play your favourite music wherever, whenever if you've downloaded the app. Just go to the song or album you want to download, tap the 'More' button to the right of the music and tap on 'Make Available Offline'. It's that simple.
2. Take it on the road with you
As a mum of three, I spend a lot of time at home (with WiFi) but when I do travel into London for work, or abroad as a family, or even go out for a run, it's so convenient that I can always have my favourite music on my phone. The Music area lets you add songs from the Apple Music library to your own personal library: simply browse, choose and sort your favourite tracks. There are more than 40 million to choose from! A few of my favourites are John Mayor, Caroline Pennell and Ed Sheeran.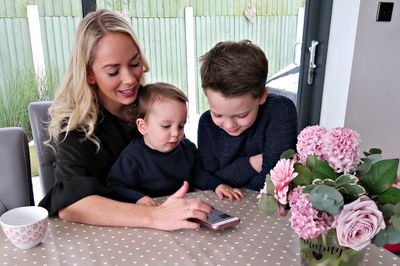 3. Discover new music
Apple Music's curated music suggestions are amazing. When you join Apple Music, friendly red bubbles will pop up with genres on them. Choose your favourites by tapping on them and double tap if you love something. Apple Music will then use its algorithms to find bands that you will love - it's like digging around a record store and finding gold! I have been introduced to artists like Colbie Cail-lat, JJ Heller and The Chainsmokers through suggestions and they have become firm favourites of mine. During your free six months of Apple Music, utilise this and the data from EE, by downloading your favourite new discoveries.
4. It's great for kids too
Apple Music isn't just for adults, I have found great kids playlists, nursery rhymes, lullabies, bedtime stories and even 'tidy up' songs! Our favourite one is a two-minute track called 'Time to Tidy Up' and when I put it on, all of us run around the house speed cleaning their toys. I love that we can stream and listen to kids favourite music wherever we are; in the car, a restaurant or a teddy bears' picnic in the garden!
5. Use the My EE app
Manage your data for no surprises. It's simple to check and manage the data that you use via the My EE app. I manage all my data through the app and if you have other family members on your pay monthly account you can manage theirs too. Just download the app from your app store, register and then you can easily monitor, use and buy data.

How do you make the most of your six months free data with Apple Music with EE? Let me know in the comments below.
1 Comment
You must be a registered user to add a comment. If you've already registered, sign in. Otherwise, register and sign in.