tobyandroo
Guest blogger
As my job is based in technology, I think it's safe to say that our home has become a connected space, a space where we use a lot of technology to help us in our daily lives, from the children to the adults.
One of the ways in which we stay connected is by using our smart speaker (we have Google Home, but there are several on the market) to sync all of our devices and create a space where, not only as parents do we have control over what our kids are doing and seeing, but as a family, we are able to share content and everything is much easier. As someone who works from home, this doesn't just apply to our family lives either, I find the smart speaker invaluable when I'm working.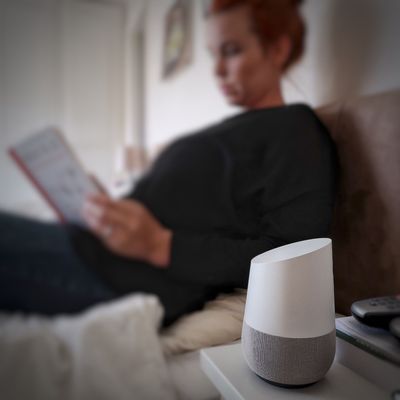 You can see how sleek the Google Home is
For us, one of the best things as a family with young children is casting. We can say "Hey Google, cast YouTube preschool songs to Chromecast" and instantly the TV will have a whole host of YouTube videos at request. I can create playlists of music so that I can work in peace with something to fill the background silence, party music so that the children can have a bit of a dance when they get in and even send the music from one room to another using multiple hubs. At the moment, we have chosen not to change our lightbulbs to Wi-Fi, but pretty much everything else is connected. I find being able to connect all of these different apps to my Google Home – Spotify, my calendar, YouTube and Disney life just to name a few – really useful. It means I can be cooking dinner in the kitchen and turn Disney life on for the children, not only without having to pick up my devices if I have pots and pans in my hands, but more importantly, I can switch whatever it is off, pause it, and then the kids are less likely to kick up a fuss when they are told to eat dinner. I also feel slightly safer too, knowing that I can control the content my children are watching, even if I'm busy and not watching it with them.
From a non-parenting perspective, syncing my husband's calendar with mine, has made a massive difference to our ability to stay connected. He can set me a reminder in the morning via his phone when he arrives at work, and as I'm getting home from the school run and preparing to whack something in the slow cooker, I can simply ask what our schedules are and I will know whether or not he is going to be home (or at football!). It means that birthday party that I know I would have every intention of writing down but would most likely forget, is there at request. For us, having the flexibility to be on the move – frequently me on a train to London – is invaluable. I know there are benefits to having a physical hub, but the ability to add the apps to mine and my husband's phones (which are rarely out of our hands) makes a HUGE difference!
As if that isn't enough to inspire you to grab a smart speaker, Amazon Alexa has just launched its latest TV skills feature, which allows you to plan what you are going to watch on that TV and date night. EE TV customers were among the first to get this feature, which means that EE customers were ahead of the game yet again! All you need to say is "Alexa, ask EE TV what's on BBC One?" or "Alexa, ask EE TV what's on tomorrow" and then when you hear what you want; "Watch 1st/2nd/3rd" or "Record 1st/2nd/3rd" – and those are just a few of the new commands they have introduced. It's basically having a totally hands-free TV remote – so you can get on with feeding the kids whilst you plan for the post bed wind down.
A photo of me taking full advantage of Google Home's hands-free remote capabilities.
Don't forget smart speakers work best via a strong internet connection. We're really lucky that with EE, we have really great Home Broadband and 4G connection for our phones, regularly experiencing a decent signal, meaning that our lives stay connected, even when we're apart.
What do you use to keep your home connected? Tap 'comment' below, and let us know!
You must be a registered user to add a comment. If you've already registered, sign in. Otherwise, register and sign in.