Joe
Former EE Community Manager
Hi guys,
I've been using the new HTC One for a couple of weeks now, and I thought I'd share my views on it. We get a lot of different handsets passing through EE towers, so I try to keep as fair as possible - these are my views and I hope you find them useful...
Let me know any questions you may have on this one and I'll get them answered! Would also love to see your own thoughts on the handset. And for those that are interested, I've had an iPhone or Windows Phone for the last 2 years...
So HTC are focusing on one single dominant device at the moment, much like Samsung with their S3 and S4 handsets, and of course Apple. And what a device it is - it feels like HTC have poured all their effort and design skills into one spectacular handset that has really raised the bar… Read on for details: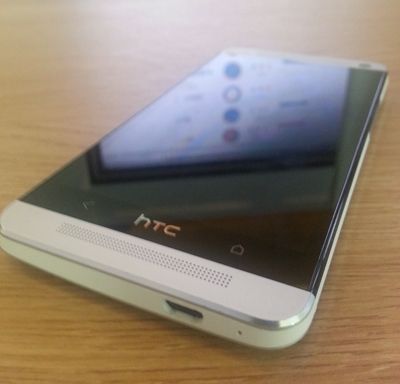 Build:
The handset feels solid, reassuringly heavy (143g), and forged from the highest quality materials. The glass is responsive, tough and gleams glamorously. The solid, cold, anodised aluminium does have a distinctive brushed "Macbook" feel to it; HTC have claimed it takes up to 3 hours of machining to put each unit together. The seamless curved back panel meets the angled frame marvelously, and tiny additions like the beautifully designed speaker grills all but accentuate the effort clearly gone into making this a thing of aesthetic beauty. If you've had enough of the more plastic, feather light Samsung style, this might be the closest thing to design perfection you'll encounter...
It sings quality and refinement, to the extent that people often "ooh" and "aah" when I get it out! It certainly doesn't stay in my pocket for long - its difficult to describe why, but as soon as you have one in your hand you'll understand. The "zero-gap" construction and understated buttons (even the power button is a secret infra-red TV remote!) has certainly taken a few cues from Apple; the super premium feel doesn't get old.
Screen:
Due to its 1080p HD screen (one of only a handful, like the excellent Sony Xperia ZL) the display really dazzles. Colours really pop and its ridiculously sharp. Its especially noticeable when streaming a HD Youtube video. Homescreens like the "BlinkFeed" transition silkily due to a combination of slick processing power and the colour depth of the screen. The blacks are REALLY black and photos look crisp and more "real" than I've seen on other handsets. Its contrast is comparable to the lovely Nokia WP8 handsets we've been seeing over the last couple of years. It is worth noting, however, that I did experience some quite noticeable blurring of images upon zooming in, but they still look great.
The screen is 4.7" with full HD 1920 x 1080 LCD as mentioned, which leads to a frankly mindboggling 468ppi (pixels per inch). it seems to operate well in most light conditions, although I have noticed that some apps override the light sensor function which leads to late night blinding! All in all though, its a joy to see those high contrast images and deep colours fill up the majority of the screen, coupled with the refined minimalistic approach that HTC have gone for in terms of font and layout.
The other nice touch is that the super tough glass runs to the very edge of the black bezel frame, finishing the handset off with a super glossy, solid state feel that some of us design junkies crave. This really adds to the viewing angle and general sharpness of the images too. Films dazzle, games gleam and notifications swoop in and out at a delightful pace.
Camera:
The HTC One boasts a new feature named "HTC Zoe". Put simply, if this is activated it snaps a few seconds of video as well as a simple image, both before and after your desired shot. This is saved into a separate folder. Then, you have the option with one click to stitch all these mini clips and pics together, apply a filter and music, and create a little auto-edited video of your day. This is really cool when you've spent all day snapping with friends, and is a lovely little feature to share with them. It can get a little confusing when you just want to take some simple photos, as its a little fiddly to turn on and off (as is the reverse and front facing camera option).
Here's an edit I stitched together and quickly uploaded to my Youtube: click here
The camera itself is great, but not the best on the market. Some light conditions don't lend themselves very well (although this may just need some settings tweaking) and the colour is lacklustre in comparison to the super vibrant Galaxy series. The HTC suffers a slight lack of detail due to its low megapixel count, but does make up for it using its "Ultrapixel" technology. HTC say this technology gives images "300% more light"; there is a certain something about daylight images that do feel vivid and glowing.
Macro and HDR settings stand out as the best I tried though, see below for a few examples:
Close-up:
Outdoor daytime:
Low light burst shot, made into a gif on Google+:
Sound:
This is the real deal-maker with the HTC One. The sound emanates from two separate speakers situated at the top and bottom of the handset, both forward facing. Not only does this create a less tinny, muffled sound, but it does actually pack a punch too. Coupled with the "Beats Audio" bass enhancer, videos and music sound phenomenally rich and detailed. This could easily be interpreted as simple marketing tomfoolery by some, but once you've had a listen and you feel the bass actually *kick*, you'll never go back. The stereo technique adopted by these speakers can even be a little disorientating when using the handset head on, but it always sounds crystal clear and beautifully rich. HTC wrap up this new approach under "Boomsound", and I can certainly see why. HD videos stream beautifully and sound enormously intricate and rich in bass, which is handy for music.
Call quality is also crystal clear (depending on your signal) and stands up to that of the iPhone 5 and Blackberry Z10, which I've personally found to be the best for conversation outdoors. This obviously depends on your signal at the time, but it's been great so far in London.
Software:
The HTC One uses a modified version of HTC Sense. It feels professional, slimlined, and understated, and of course still runs on Android in the background. It comes equipped with a new feature called "Blinkfeed", which is essentially a stripped down panel style feed of content pulled from your favourite pre-designated news sources and social channels. Mine seems to be a combination of crazy tweets from friends, tech news, gaming and music, which is perfect for me. Its more of a function that you'd browse on the tube to work than stop to check regularly, but it flips up and down with grace and seems suitably relevant for quick access to news and "stuff". The rest of the operating system runs smoothly and extremely quickly, with absolutely no hanging or stuttering whatsoever, which is a massive achievement. This is of iOS standard and the fully integrated social/notification approach works seamlessly with every app.
The recent Google updates (more news on those soon...) this week have made the experience even more integrated, to the extent where if you take a bunch of photos, you'll be prompted later in the day to upload them directly to Google + with one click. Transitions swim without a hitch and everything just... flows. The software looks consistently stunning, showcasing that minimalistic, understated approach throughout all its menus and apps. There are also rumours of the HTC One being offered up with the stock Android system, which may attract the more hardcore Android fans taht could do without the bells and whistles.
The Guts:
When it gets down to the nitty gritty, the Samsung S4 is slightly faster, however from my experience I've found some Android phones trip up and stumble over themselves, despite their blazing fast, quad powered insides. Not with the HTC One - it's super snappy, with no lag or stumbling and seems to have no problems at all doing a hundred things at once.
Technically, the Samsung Galaxy S4 (marginally) outperforms the HTC in benchmark speed tests, but the One seems more responsive, snappier, and smoother. This was a huge surprise to me, but that 1.7 Ghz Snapdragon Quad-Core has been put to excellent understated use.
Verdict:
HTC has a bold new contender in the smartphone arena, and its a serious one. If I had my pick of handset for the rest of 2013, this is the number. Snappy, responsive and beautiful, this powerhouse is a masterclass in mobile tech perfection.
9/10
Ups:
Industrial, premium handset design

Cool unique features like "Boomsound" and "HTC Zoe"

Massively powerful processing with snappy performance

Rich screen with beautiful operating system

Seamless Google and social app integration
Downs:
No SD card removal, comes in 32GB or 64GB built in

Battery can get low quickly when used to the max, and not removable

A little bulkier than its Samsung and Sony cousins
Do let me know your own thoughts...
You can buy the HTC One and check out the features in depth over at:
http://explore.ee.co.uk/smartphones/htc-one
Thanks
Joe
4 Comments