BlossomingBirds
Guest blogger
Annual leave from work and half term with the kids; it can leave you thinking 'what can I do and how can I create the best memories?'
You don't have to jump on a plane to have a great break with the kids as the place you live also has so much to offer; we often forget to look at what is right under our nose.
Although we might not always get great weather it's the attitude we have towards it. The weather is only as bad as your outfit choices so there's nothing a pair of wellie boots and a water proof coat can't handle... followed by a great cup of tea, always followed by tea.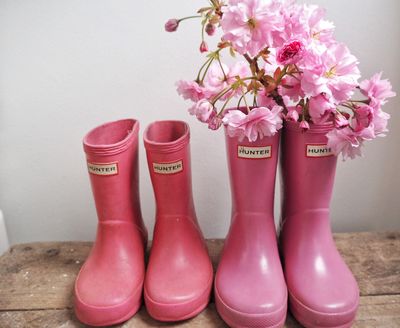 Pink wellies and blossom
The app 'Around Me' is a great one to keep you up to date with what's on offer in your local area; from Cinemas to coffee shops it's a one stop search to find what you are after.
I also love the culture in our local Cities and one we have been visiting recently is Derry. We've found jumping on a train is so much easier than taking the car, so we've been using the Translink app, UK Train Times app and National Rail app to plan our journeys – it's so simple and the girls love it! I've also signed us up to live notifications on our travel apps, and with EE's 4G coverage at 95% of the UK, we never miss an update. Derry is bursting with quirky coffee shops and great parks, but I always check local councils websites en route for upcoming events/markets too.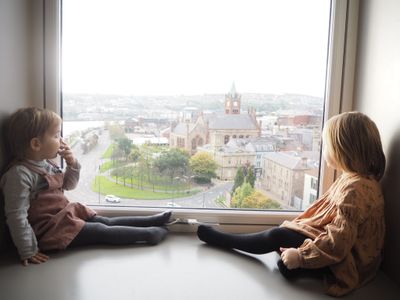 A room with a view
A contrast from the hustle and bustle of city life is heading to the Coast. Packing up the bikes, a kite or just heading a long walk on the beach just feels so good for the soul. Even better, a quick Google search for camping sites (or glamping sites if you can't go without your phone and luxuries) nearby is a great way to feel you're actually getting a break. I'm also pretty sure the best memories are made wrapped up by a campfire whilst toasting marshmallows and telling stories.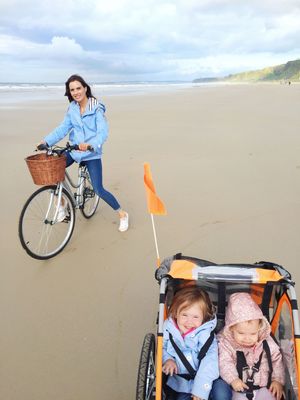 Bikes on the beach
The National Trust App is fantastic for finding beautiful places nearby and keeping you up to date on fun family activities they have planned. They include many geological wonders and a wealth of history and legend throughout the sites. Until now we hadn't taken the girls to visit The Giants Causeway but this age is the perfect time to hear of the mythical giant Finn McCool.
Moments of wonder are best shared and FaceTime means that friends and family can see the excitement first hand and join in as the story unfolds. Thankfully even the most remote areas have 4G coverage thanks to EE, so sharing memories and reactions has never been easier. I also love sharing images and videos with my family on Whatsapp. With a sister living in America who has only met our girls a few times, it's essential that we keep up to date, even thousands of miles apart. EE Mobile broadband is a great way to ensure that 100% of the time you have excellent, high-speed service on up to 10 devices – there's no excuse not to keep your nearest and dearest up to date!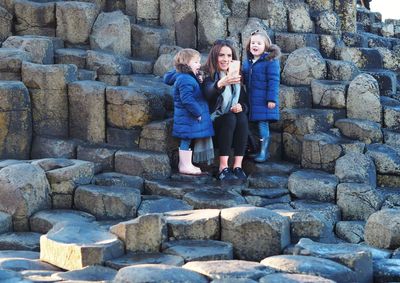 Photos at the Giant's Causeway
With how hectic life can be, days off work can leave you feeling like you want to do very little. To entertain the girls, I make a big fuss over the little things, for example…a big tent with a picnic to watch a new movie. Really it's a few blankets, pillows and two chairs with little bowl of snacks in front of a movie they haven't seen before (usually Netflix saves the day).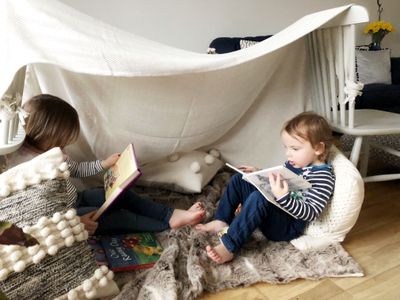 A cosy den in the dining room
Broadband is the unsung hero in our house for when we want to get things done, and whilst we try to limit time with iPads, Netflix recently has been a big hit for movies and box sets. Another great app for entertaining kids is YouTube Kids, which gives peace of mind that all content is appropriate for little eyes and minds with some fabulous educational, fun videos on there too! This being said, it's vital we have a strong and fast Broadband connection for seamless streaming across multiple devices and luckily we get speeds of up to 76 Mb/s on our EE Fibre Max Broadband plan.
For a giggle and a bit of grooving for the whole family the Just Dance Now app is perfect for a day at home or an evening entertaining. It can be streamed to the TV and has recent chart hits to boogie too while showing you what moves to pull. Nothing more amusing than a bit of dad grooving.
Whatever you are up to this half term, I hope it's the perfect mix of adventure and relaxation but most importantly filled with amazing memories!
A warming babycino at the beach
I would love to hear how you keep your family entertained throughout half term and any recommendations that you have. For your chance to win a £50 Vue cinema gift card, let me know your most unique suggestions in the comments below. Terms and conditions apply.
*This competition is now closed*
Anna x
8 Comments
You must be a registered user to add a comment. If you've already registered, sign in. Otherwise, register and sign in.