redheadsaid
Guest blogger
If you're always after the latest in consumer tech, or if your devices are due an upgrade then Black Friday should be the date in your calendar each year. It's typically the time of year when retailers offer their best deals in the run up to Christmas.
So, if you're looking for a new mobile phone or tablet then EE's Black Friday deals are not to be missed. If you love Apple products and are in the market for a new contract mobile phone, this Black Friday you'll save £100 on the iPhone 8 or iPhone 8 Plus, as well as great savings on the iPhone 6S and iPhone SE.
iPhones are fantastic for syncing with other Apple products, making use of all the iOS apps and fantastic cameras too. I think most people who pick up an iPhone would be able to use it straight out of the box with its intuitive interface. Plus, as iOS updates regularly, you always have the latest software and whatever model of iPhone you have you know it can keep up with the latest apps and services.
Our household is split with my husband being a huge Samsung and Android fan but with me being a huge Apple fan. I love that my Macbook and iPhone can work seamlessly together and the range of apps is amazing but my husband loves that Samsung always have the latest technology first and are just so innovative with their handsets and operating systems.
If, like my husband, you prefer an Android phone then keep a look out for the great Samsung deals that EE have this year. With a £199 saving on the Samsung Galaxy S8 and S8 Plus both with 500MB of data, there's lots to get excited about. Plus, there are other great savings on the Galaxy A3 and A5.
Samsung mobile phones always have a really user friendly and simple interface. Even the most advanced Galaxy phones are quite easy to operate and the devices have all the latest technology like voice activation and motion gestures. The Galaxy range also have some of the biggest, clearest screens and expandable memory to make a Samsung phone so much more than just a phone.
But if you're more 'Pay as you go' than contract, then you can get the Alcatel Pixi 3 (3.5) for free when you top up £20 and there are also savings on mobile phones from Huawei and Mobiwire. Pay as you go is perfect if you don't use a phone often, want it for use in an emergency and not much else or to give a child as their first mobile phone without being tied into a long-term contract. I remember getting my first mobile phone as a teenager. It would be topped up once a month and I knew that the credit had to last me until the next top up. It was a great way of learning to be responsible with both a mobile phone but also personal finances too.
It really has never been a better time to upgrade your phone, buy a new one or invest in one for your children. If you have a child starting secondary school or if your teenager has a new phone at the top of their Christmas list, then EE's fantastic Black Friday offers are something to really make the most of.
Tablets are also high up on Christmas lists this year for adults and children alike. It's so handy to have a tablet both at home and out and about to work on, watch shows, keep up to date with the news or to keep the children entertained. If you need to invest in a new tablet then EE's fantastic Black Friday offers might be perfect for you.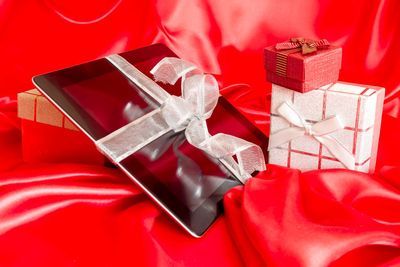 If you're an existing EE customer, get online and grab Apple's iPad Pro 10.5-inch for just £45 a month with no upfront cost, saving £149! Or, the Huawei T3 8" starts at just £14 a month, with no upfront cost and a £99 saving!
If you've never thought about getting a tablet then now be just the right time to make that investment. They are so versatile and like having a fully-fledged computer in your hand. Before I had a tablet I didn't think I would use it much - now I'm not sure how I lived without one!
So now you know all about EE's great Black Friday deals. It's the time to shop if you're looking to get your hands on the latest tech, a new gadget or tick a few things off those Christmas lists. Black Friday is renowned for having the best offers and EE's deals are no exception - they are definitely worth grabbing whilst you can:
What is top of your shopping list this Black Friday? Comment, and let us know!
You must be a registered user to add a comment. If you've already registered, sign in. Otherwise, register and sign in.