redheadsaid
Guest blogger
Do you watch your favourite TV shows or an occasional movie but wonder whether there's more to entertainment, whether you're missing something or if you're just stuck in a rut where entertainment is concerned? Or, do you just not have the time to watch all the shows you'd love to squeeze into your day to day routine?
With constant live TV as well as TV on demand there is often just too much choice and I know how easy it is to stick to your familiar and favourite shows rather than find something new. But, there's a whole world of TV to stream and explore – as long as you can find the time to watch it.
EE TV is accessible to all EE broadband customers and offers over 70 free channels, on demand entertainment and the best Pay TV when it suits you. The on demand entertainment has loads of familiar favourites like BBC iPlayer, Demand 5 and YouTube, all at no extra cost. Plus, the Pay TV has no long-term contract and can be cancelled anytime. You can get Sky Sports, Sky Cinema and eleven amazing TV channels like Sky Atlantic. If you want to watch the latest blockbusters and TV series instantly you can with Rakuten TV, or watch your favourite reality shows on hayu.
If your family are always fighting over the remote you can make life easier and keep everyone happy and record up to four channels at once, plus EE TV's huge 1 terabyte memory is big enough to store everyone's favourite shows. If that wasn't enough, you can even use services like Now TV or Rakuten TV to expand your viewing options even more. If that gives you just too much choice you could aim to find and watch one new show a week – it will give you fresh entertainment and mix up your usual viewing routine at the same time.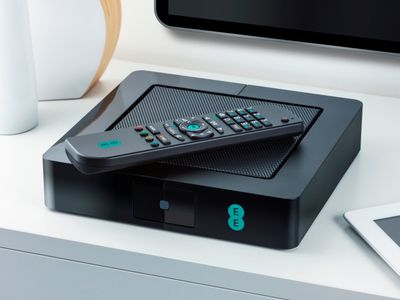 The EE TV box and remote control
To find new shows to watch check what's trending on Twitter – people always love to chat about what they're watching – from Great British Bake Off to Strictly Come Dancing or The X-Factor – Twitter is always the first to hear about the most popular shows across the country. Newspapers and magazines are a great source of TV inspiration too or, ask friends what they're watching for a more personalised recommendation.
The best thing about watching TV on demand or that you've recorded is that you can spend the precious time that you do have watching shows that you really want to watch and with 'Replay' you can automatically record 8 SD or 6 HD channels continually. It stores the programmes for up to 24 hours and these can be turned into a Recording if you want to keep it for longer to watch at a later date.
There's nothing more frustrating than getting stuck in traffic and coming home half way through your favourite show. But, with RESTART you can watch any program from your REPLAY channels from the start – regardless of how much you've missed.
Also, you can now watch EE TV using Alexa voice control through Amazon Echo or Echo Dot – meaning customers can just ask for information on what's on TV, or to record their favourite shows without even having to move or press a button.
The EE TV app also lets you watch live TV, recordings and replay from your EE TV on your Android or Apple tablet or phone whilst at home. It works seamlessly with up to three compatible devices and is only limited by the speed of your internet. Make sure you have the best internet connection possible to get the most out of your precious viewing time. Never before has TV been so accessible! Plus, when away from home you can still check the TV guide and set recordings, giving you more to watch when you're at home again.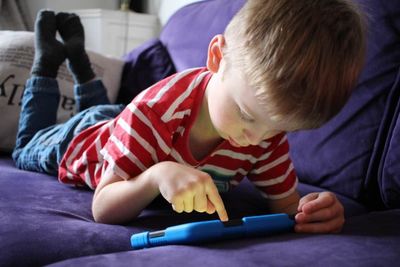 Here's a picture of my son using the EE TV app on his tablet.
So next time you're stuck in an entertainment rut do something new – watch a new TV show, a different channel or even watch TV somewhere new – sit in the garden and stream TV to your tablet for a change of scenery or even have a bath and watch a show surrounded by bubbles!
Entertainment should be entertaining and with so much choice at our fingertips we can easily lose the fun where TV is concerned – let's make sure that doesn't happen. What shows will you be squeezing into your routine this week? You could even ask Alexa what to watch for three great suggestions too.
If you have any questions, tap comment below.
2 Comments
You must be a registered user to add a comment. If you've already registered, sign in. Otherwise, register and sign in.