Options
Mark as unread

Mark as read

Float to top

Bookmark

Subscribe (email)

by
Annachatfield06
New Member
a week ago
Hi just had a text claiming that EE are unable to process my bill and to avoid further costs I need to follow the link. Is this a scam? Thanks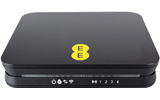 by
XRaySpeX

Grand Master
a week ago
It's a scam! There are many of these going the rounds. EE would never send you a msg asking you to click on a link in order to update your a/c.

Don't go there but what was the link?

Report it to EE by forwarding it to 7726 (S.P.A.M. on your keypad).
__________________________________________________________________________________________
If you think I helped please feel free to hit the "Thumbs Up" button below.

To phone EE: The local rate landline number +44 207 362 0200 or Freephone +44 800 079 8586 - Option 1 for Mobiles; Option 2 for 4G WiFi; Option 3 for Home Broadband & EE TV.

ISPs: 1999: Freeserve 48K Dial-Up => 2005: Wanadoo 1 Meg BB => 2007: Orange 2 Meg BB => 2008: Orange 8 Meg LLU => 2010: Orange 16 Meg LLU => 2011: Orange 20 Meg WBC => 2014: EE 20 Meg WBC

by
Leanne_T
EE Community Support Team
Friday - last edited Friday
Hi there @Annachatfield06
Thanks for coming here.
Please don't click on the link and enter any details, can you forward the message to 7726, we will be able to get this investigated.
Once you have done this can you delete the message 🙂
Thanks.
Leanne.