Options
Mark as unread

Mark as read

Float to top

Bookmark

Subscribe (email)

by
James_B
EE Community Support Team
Using Chat on your Android phone with EE
‎06-12-2019 10:54 AM - edited ‎10-12-2019 10:32 AM
Did you know you can now use Chat on your EE Android phone?
Chat is a next-generation messaging service that's more powerful than SMS in a few ways. And it's free. Here's some info on why you might want Chat and how to get it.
Should I use Chat?
That depends. If you only use SMS for short, one-to-one chats it's probably not for you. But if you want to send long or multimedia messages, talk in groups or let friends know where you are without texting, Chat is a great option.
Some benefits of Chat
Use Wi-Fi: Send text messages using data or Wi-Fi, meaning lower charges
Send large files: Send attachments that are up to 100 MB (instead of up to 2 MB with SMS)
Text a group: Create group chats with up to 100 people
Send enriched content: Share high-quality photos and videos
Location sharing: Let friends know where you are as you travel
Get typing notifications: See when your friend is writing a message
Get read receipts: Find out if your message has been seen
Send long messages: Get 8000 characters per message (instead of 160 with SMS)
What happens if I send a message to a phone that doesn't support Chat?
When a message is sent to a device that doesn't support Chat features, the message will be sent as a standard SMS/MMS text message and charged at your normal plan rates.
How can I tell if a message will be delivered as a Chat message or as SMS/MMS?
Open a conversation with another user who also has Chat features. If the edit box says send "Chat message", then Chat features are enabled on your device. If the edit box says "Text Message", your phone is not able to send Chat messages to that user.
Will Chat features work if I don't have a data connection?
If there is not a data connection for your phone (for example if you have turned data off, or if you are in an area that has poor data connectivity) the Messages app will switch to using SMS/MMS if a cellular connection is still available.
How can I get Chat on my EE phone?
Chat is a feature of the Messages app that can be downloaded for free from Play Store on your phone. You might also need to turn on Chat features: Go to Settings, then chat features, and change the Status to Connected. The person you're messaging also needs to have Chat.
Here are the steps to follow to install Messages if it isn't already your default messaging app:
Step 1: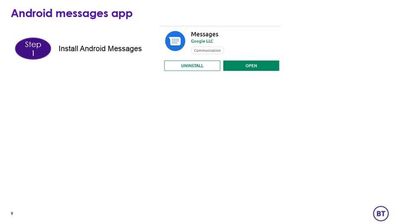 Step 2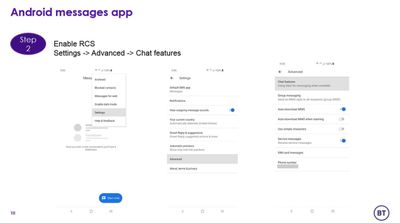 Step 3
If you have any questions please don't hesitate to tap "Reply" below 😀