Options
Mark as unread

Mark as read

Float to top

Bookmark

Subscribe (email)

by
sbirks

Contributor
Recordings not showing in EE TV app (2 devices) but are showing on EE TV Box
‎21-04-2019 01:29 PM
Hi, I have EE broadband and EE TV. I have the latest EE TV app installed on both my iPhone and iPad. Everything has worked fine for approx 9+ months.
Recently the device app's show 0 recordings available 61% free space, although when looking directly on the EE TV box (from my tv) there are 109 recordings, 61% free space, all displaying as normal.
I have double checked that 'All recordings' is selected but as I'm the only user in the home all settings are as expected, even when I select something else then re-select 'All Recordings' or change from 'Date' to 'Category' nothing shows.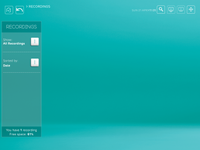 So I have rebooted both the EE Broadband router and the EE TV box, then also uninstalled, restarted devices, reinstalled & re-paired the app on both devices. They still show no recordings but 61% free space with no shows actually displaying. The menu offers 'All Recordings' or 'Scheduled' but nothing shows when selecting 'All Recordings'.
I have followed 'Check your Hard Drive' as per here: https://ee.co.uk/help/help-new/home-broadband-ee-tv-home-phone-and-4gee-wifi/support/how-can-i-fix-r...
I then also 'Reset Settings'. This without warning deleted all my scheduled items so I've hopefully remember and reapplied those, however it's not enabled the device apps to show recordings.
Power supply & tv aerial are always connected.
Recordings on EE TV box viewed on tv are always still there and working normally. I can start something on there then 'Fetch' it to my ipad however this defeats the mobile functionality of the app!
I did not 'Reformat your hard drive' as it warns this will delete all recordings and I do not want to lose everything as it works ok on the tv, just not devices anymore.
The functionality offered within EE TV was better than regular Sky. I have been delighted with it, however this loses the key functionality I chose EE TV for. I regularly use 'Replay' and 'Flick & Fetch' when moving around the house, as well as watching recordings directly on a device using the app, more so than watching directly on tv. However these are no longer working so I'm keen to resolve these issues asap as I'm paying for these services.
I've searched and read several of the related posts already in the community but nothing I found and tried has solved my problem and hoping someone will be able to help me please.
Thank you in advance.