Options
Mark as unread

Mark as read

Float to top

Bookmark

Subscribe (email)
by
DaveyWavey

Investigator
‎17-08-2018 08:48 AM
Hi All,
I've been on a £15 everything plan for about four years. Always renewed, never changed anything, been building up boosts nicely. This is what I normally see when I renew: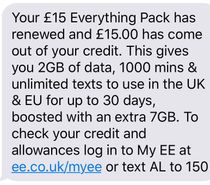 Now, it seems I've lost a load of boosts, and everything, from 150 to EE app is telling me I have six boosts = 3GB of addition data instead of the 7GB I'd built up. My packs haven't lapsed, I have made no account changes, nothing!?!

This *seems* to be a bug instroduced as part of the data rollover change. I spoke to customer service, who said he could only see the boosts on the account, and couldn't really do anything else, wouldn't escalate the call or anything. He gave me a PAC number as he seemed to want to get rid of me.
Any guidance appreciated.