Options
Mark as unread

Mark as read

Float to top

Bookmark

Subscribe (email)

by

Sorcha
EE Community Manager
Hitch a ride on The Grand Tour - Get six months of Amazon Prime Video on EE
2 weeks ago - last edited Friday
We're big fans of TV entertainment over at EE, so we're excited about six-months of Amazon Prime Video being offered to all pay monthly customers on EE.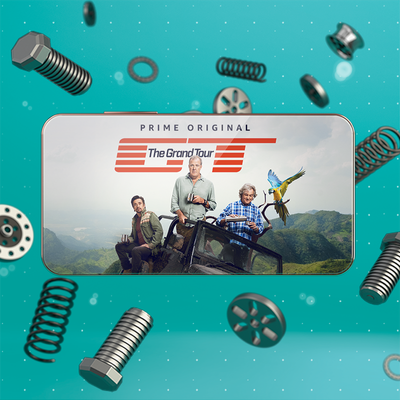 What is Amazon Prime Video?

For six whole months, pay monthly customers can now get access to Amazon Originals like The Grand Tour and The Man in the High Castle on their phones or tablets. There's also a wide range of popular movies and TV shows to choose from too.

And there's no need to keep it all for yourself. If you fancy sharing in some entertainment with your friends and family, you can watch Amazon Prime Video on your TV. Using your Amazon ID and password, you can log in through a compatible games console or smart TV or streaming device such as Amazon Fire Stick or Apple TV.

The really great news is that EE will cover the data you use too, so you can watch all you like without denting your data (though you'll need to make sure you have some of your plan data allowance remaining to continue streaming). This includes when you're holidaying in the EU - and if you have an EE Max Plan, in the USA, Canada, Mexico, Australia and New Zealand.
How do I get started?

To subscribe to Prime Video, just text PRIME VIDEO to 150, then reply YES to the follow-up text message.

After six months your subscription will be just £5.99 a month, which will be added to your mobile bill, and the data you use will start to come out of your allowance. You'll be reminded beforehand though, and you can cancel at any time.

This offer is intended for customers new to Prime Video, but if you already have a subscription to Prime Video, you'll need to cancel the account first before activating a new one using our offer. Alternatively, you can register for an additional Prime Video account using a secondary email address.
It's a great offer and a chance to enjoy some brand new entertainment, so why not give it a try?
Terms & Conditions
Read more
Available to customers on 4GEE consumer and small business Pay Monthly plans (except Business Connect customers) requesting Prime Video for the first time. Subject to credit check. Offer available until 11 September 2019. Prime Video is available for six consecutive months. The six months starts as soon as we receive your request for Prime Video. If Prime Video is removed from your account at any point during the six month period, you'll be unable to get it again for any offer period. Prime Video is £5.99 (inc VAT) each month after the promotional offer period. If you do not wish to continue for £5.99 a month you may cancel at any time by contacting EE. During the offer period, data used whilst streaming content on Prime Video whilst in the countries covered by your plan allowance will not decrement from your plan's inclusive data allowance. All other data used when you use Prime Video will decrement from your plan's data allowance. You must have some of your plan's data allowance left else you will be unable to stream content on Prime Video on your EE device. At the end of the offer period any data used will decrement from your plan allowance. The offer is non-transferable. Prime Video is for your personal, non-commercial use only. Offer subject to change. Amazon.com Inc and its affiliates are not sponsors of this promotion. You must not attempt to share, edit or adapt the content made available to you. It's your responsibility to ensure that content accessed by under 18s is suitable for those viewing it. Content available via Prime Video may change from time to time. Access to content outside of the UK subject to Prime Video terms. Big screen viewing: Compatible equipment required to cast content to your TV. For details of compatible alternative devices to view on big screen, see here. Prime Video terms apply. Amazon, Amazon Prime Video and all related logos are trademarks of Amazon.com, Inc. or its affiliates.
For more details go to www.ee.co.uk/amazonterms

by
happyhippy
Explorer
Re: Hitch a ride on The Grand Tour - Get six months of Amazon Prime Video on EE
Sunday
why you need data left in plan cant use the wifi and specially if you got small data allowance

by
Leanne_T
EE Community Support Team
Re: Hitch a ride on The Grand Tour - Get six months of Amazon Prime Video on EE
Monday
Hi @happyhippy
I have replied to your other post.
Thanks, Leanne