Options
Mark as unread

Mark as read

Float to top

Bookmark

Subscribe (email)

by
Jon_K
EE Community Support Team
EE Network Status Checker
‎09-10-2018 01:31 PM
We like to keep our customers in the loop with improvements we make to the network. Our status checker will keep you updated with any maintenance works.
You don't need to register for updates if you're just curious, just simply search a postcode for a quick status check on the area.
How do I register for updates?
You will be presented with an up to date status of your area.
Tap 'Add To My Places' and enter your mobile number.
We will send a verification code to your number, just so we know it's you.
You will now be updated with any planned work or problems.
After your first location is added, you can add additional places by going to 'Manage My Places'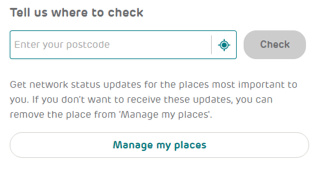 How do I report a network problem?
If you're experiencing issues but the EE Network Status Checker isn't showing a problem in your area, you can report this using the 'Report A Problem' button.
Enter your postcode and tap the 'Report A Problem' button.
You will be asked for further information around your problem so we can do some further investigation.
We will get back to you within 48 hours with an update.
Have a look at our My Places Help page for more information.
If you have any questions, let us know by tapping the 'reply' button.