Topic Options
Mark as unread

Mark as read

Float to top

Bookmark

Subscribe (email)
Highlighted
by
EE Employee
‎30-03-2017 12:59 PM
This is a great post to read when you are waiting for a delivery from EE – for example, a new device such as a phone or tablet, or a new accessory.
The image below shows what happens when you order from us – you can find a lot more detail about deliveries on our help page.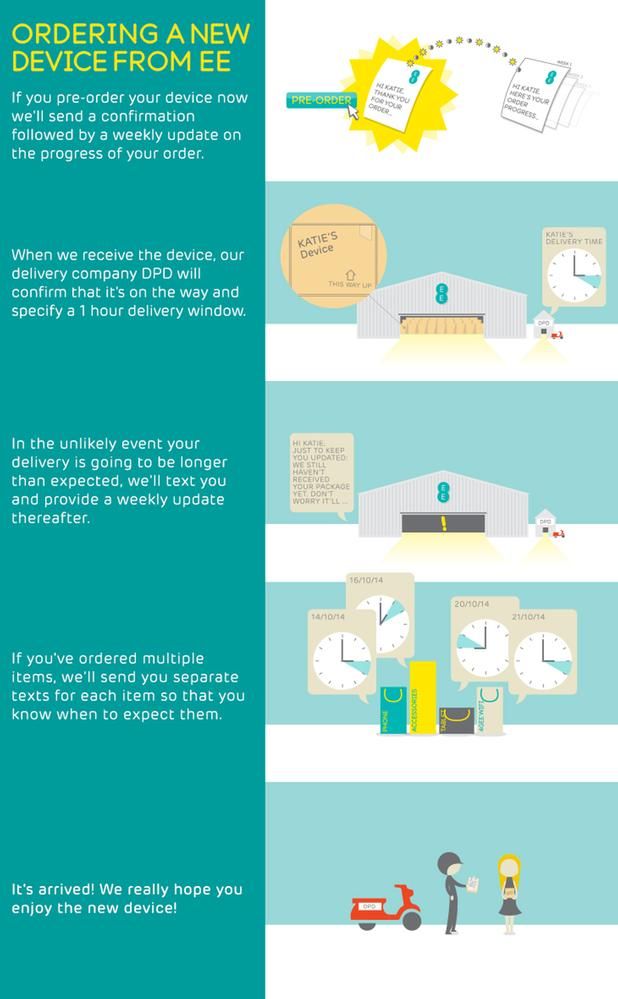 Summary:
If you pre-order a new device online or over the phone, we'll send a confirmation, followed by a weekly update on the progress of your order.
If you ordered in one of our retail stores, once the device is in stock, you'll receive a call from a store advisor during store opening hours.
When we receive the device, our delivery company DPD will confirm via text that it's on the way and specify a one-hour delivery window.
In the event your delivery is going to be longer than expected, we'll text you and provide a weekly update thereafter.
If you've ordered multiple items, we'll send you separate texts for each item so that you know when to expect them.
It's arrived! We really hope you enjoy the new device.
I hope this helps make things clear.
If there are any more questions about our delivery process, please ask below and we'll do our best to get you an answer.
Thanks.
Message 1 of 15
(9,523 Views)
14 REPLIES