This page is no longer active
Options
Mark as unread

Mark as read

Float to top

Bookmark

Subscribe (email)

by
James_B
EE Community Support Team
How to activate your new EE SIM Card
‎04-03-2016 01:10 PM - last edited on ‎02-09-2016 03:08 PM by ElenaG
Hi Everyone,
From time to time you may need to change your EE SIM card. Depending on the reason for the new SIM card you may or may not need to activate it online.
Here is a quick guide on what you need to do.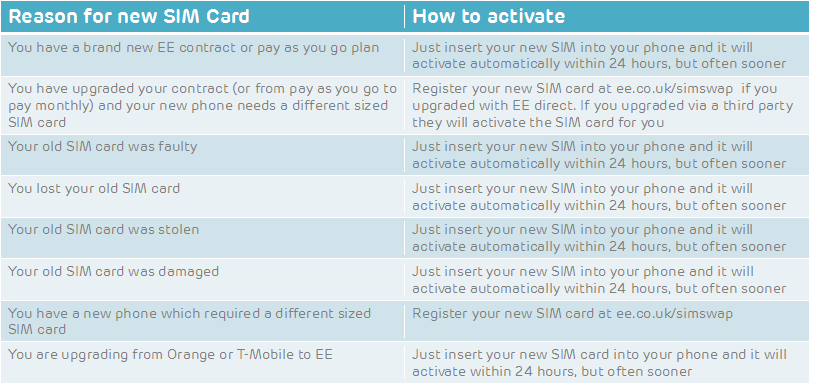 If you need to activate your SIM card online you will need an EE signal on your old SIM so you can receive a text.
During the activation process you will be asked for your new SIM serial number. It's located underneath the barcode on the letter that came with the new SIM (see below). You will need to enter a 14 digit number so it's important to include the 2 numbers in brackets at the end.

A few points to bear in mind…
If you have upgraded your phone and your old SIM card is the correct size you can continue using it


When upgrading from an Orange or T-Mobile plan to EE you won't be left without service, your old SIM will continue to work until your number transfer completes


If your new SIM card fails to activate for any reason please get in touch with customer service
I hope this helps you get started, thanks for reading.
As always, please hit reply if you have any questions.
James
EE Community Team