Topic Options
Mark as unread

Mark as read

Float to top

Bookmark

Subscribe (email)
by
EE Community Manager
How to export contacts from your Orange Email account
[ Edited ]
‎24-02-2017 12:06 PM - last edited on ‎03-03-2017 01:04 PM by Karen_C
In preparation for the closure of the Orange Email service you may want to save your contact list and then import it to your new email account. Here's our step by step guide for exporting your contacts from Orange email and further down the page you'll see how to import the contacts into Google for your Gmail account.
Please note that the instructions for FSMail users are slightly different as the export process described below does not work for FSMail. If you are a FSMail user our suggestion is that you take a screen shot of each page of contacts and manually enter them individually into another service such as Gmail.
How to export your contacts
Click on the 'contacts' tab at the top of the page

Click the "contacts" tab
Click on 'export contacts' in the left hand menu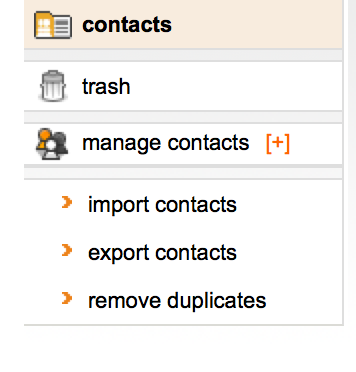 Click on 'export contacts'
Select the format in which you would like to export your contacts using the drop down menu
Click 'next' at the bottom of the page
Click 'next'
Select the contacts you wish to export using the check box against each contact. (Tip: To select all, click the check box in the header next to the 'first name' column)
Click 'export' at the bottom of the page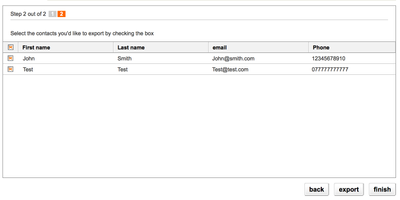 Click 'export'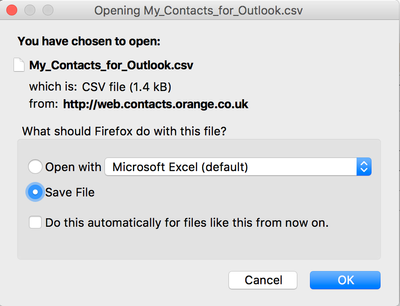 Click "save file" and then "OK"
Click 'finish' within the contacts page on Webmail
You can now use this CSV file to import your contacts to an email client such as Microsoft Outlook, or to another email provider such as Google.
---
How to import your contacts into Google/Gmail:
Select 'Import contacts...' in the left hand menu
Select "Import Contacts"
Click the 'Browse' button to select the location of your CSV file that you exported from Orange Webmail, then select 'Import'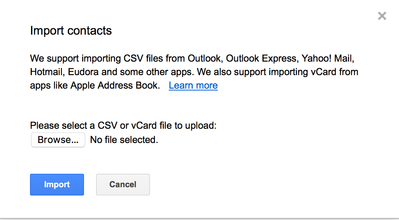 Select "browse" then "import"
Here's a really useful video to show you how you how to set up an auto reply:
For any customers who are using Outlook with their email account, we've found a handy guide on the Microsoft support pages, that may help you transfer your contacts using a CSV file.
Create or edit.csv files to import into Outlook
Message 1 of 63
(21,392 Views)
62 REPLIES