Options
Mark as unread

Mark as read

Float to top

Bookmark

Subscribe (email)
by
TiffJ
EE Community Manager
Kick start your EE career: National Apprenticeship Week
‎06-03-2017 10:42 AM - edited ‎06-03-2017 10:48 AM
This week is National Apprenticeship Week, a nationwide celebration of the benefits of apprenticeships – both for apprentices themselves and the employers who take them on.
At EE, our apprenticeship programme has been kick-starting successful careers across all areas of the company for years. But what does an EE apprenticeship actually look like? And how can you get involved?
Read more about our apprenticeship programme and register your interest >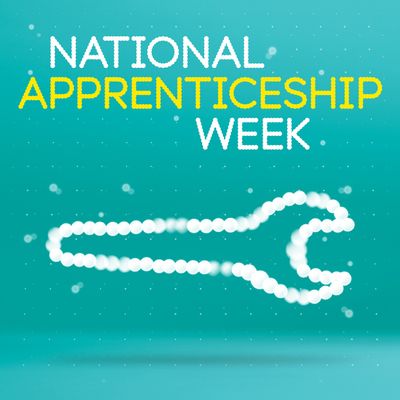 Find an apprenticeship with EE
We take on over 300 apprentices every year and begin our next round of recruitment very soon.
We run apprenticeships in our contact centres, high street stores and even a few in head office – so there's something for everyone!
Whatever route you choose, you'll be getting a Level 2 qualification (Level 3 in our head office schemes) and invaluable real world experience – all while getting paid. Not bad, eh?
What's an EE apprenticeship actually like?
"The apprenticeship programme is an entry point, and provides you with the fundamentals to build something from nothing. You gain vital experience to enter an avenue of your choosing," says Kazeem Taiwo, a former retail apprentice.
Kazeem started his apprenticeship in 2013, progressing to Senior Advisor after completing the scheme. And now? He's a Store Manager in central London, demonstrating just how far an apprenticeship can take you.
"If I hadn't taken part I wouldn't be where I am now. The course enabled me to understand my objectives and where I needed growth, along with my strengths and weakness," he says.
What about an apprenticeship at our head office?
For Zoe Flanagan, starting an apprenticeship in User Experience Design, at our head office, meant completely changing her career trajectory.
"I asked myself: Do you want to leave your half-finished philosophy degree to do a year-long apprenticeship at the most forward thinking phone company in the country, get paid to do it and have a high chance of a job at the end? Yes, yes I do," she says.
After completing her apprenticeship in 2016, Zoe was offered a full-time role as a User Experience Designer, and hasn't looked back.
"My advice for aspiring apprentices? Make your career choices based on what feels right. There is always time to change your path, and none of it will be wasted time."
How to apply for an EE apprenticeship
We recruit apprentices at different points throughout the year, so register your interest here to receive alerts when our next recruitment period opens.
Once you've found the apprenticeship you want to apply for, simply complete an online application form and short questionnaire. Then there's a telephone interview followed by a face-to-face interview, where you can get a feel for the company and show us what a great apprentice you'd be.
Read more about our apprenticeships, and if you've got any questions don't hesitate to get in touch via the comments below.
2 REPLIES
by
top_trunk
Established Contributor
Re: Kick start your EE career: National Apprenticeship Week
a week ago - last edited a week ago
I wish i could work for EE.
by
leanne_T
EE Community Support Team
Re: Kick start your EE career: National Apprenticeship Week
a week ago
Hello there @top_trunk
Welcome back to the community hope your well.
Check out our Jobs at EE page and have a look at what jobs are currently advertised
Lots of luck if you do apply
Leanne.