Options
Mark as unread

Mark as read

Float to top

Bookmark

Subscribe (email)

by
tronicwhisky

Contributor
expiring date of contract
3 weeks ago
trying to fined my broadband contract expiring date?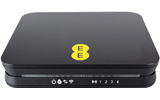 by
XRaySpeX

Grand Master
Re: expiring date of contract
3 weeks ago
Your min. contract term date will not be found anywhere in your MyEE for BB. It'll be in or workable out from your Welcome email. If you haven't kept that you will need to call EE to find out.
__________________________________________________________________________________________
If you think I helped please feel free to hit the "Thumbs Up" button below.

To phone EE: The local rate landline number +44 207 362 0200 or Freephone +44 800 079 8586 - Option 1 for Mobiles; Option 2 for 4G WiFi; Option 3 for Home Broadband & EE TV.

ISPs: 1999: Freeserve 48K Dial-Up => 2005: Wanadoo 1 Meg BB => 2007: Orange 2 Meg BB => 2008: Orange 8 Meg LLU => 2010: Orange 16 Meg LLU => 2011: Orange 20 Meg WBC => 2014: EE 20 Meg WBC