Options
Mark as unread

Mark as read

Float to top

Bookmark

Subscribe (email)

by
chloexxx
New Member
can i change the position of router
a week ago
hi
i cant receive wifi signal in my bedroom. My router is in the living room. Can i just move the router into my roiom or can i get another router in my bedroom?
thanks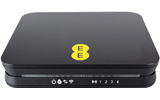 by
XRaySpeX

Grand Master
Re: can i change the position of router
a week ago
The router should be plugged into the master phone socket. Is that's what's near your living room? Do you have an extension phone socket in the bedroom? You could try that but it's not recommended.
You can't have 2 routers on the same BB line.
Have you considered Wireless Range Extenders ?
__________________________________________________________________________________________
If you think I helped please feel free to hit the "Thumbs Up" button below.

To phone EE: The local rate landline number +44 207 362 0200 or Freephone +44 800 079 8586 - Option 1 for Mobiles; Option 2 for 4G WiFi; Option 3 for Home Broadband & EE TV.

ISPs: 1999: Freeserve 48K Dial-Up => 2005: Wanadoo 1 Meg BB => 2007: Orange 2 Meg BB => 2008: Orange 8 Meg LLU => 2010: Orange 16 Meg LLU => 2011: Orange 20 Meg WBC => 2014: EE 20 Meg WBC

by
Dragonfly

Contributor
Re: can i change the position of router
Saturday
The range of a wireless signal is increased dramatically if the router is positioned high up.
We have the router on top of a 6ft bookcase near the front of our house, and have no problems with range, we can even get a decent signal at the end of our garden.