Options
Mark as unread

Mark as read

Float to top

Bookmark

Subscribe (email)
by
ANZAC
New Member
Work VPN can't connect via Ethernet cable and Brightbox2
Wednesday
G'day.
My partner is being forced to work from home but is unable to do so as she can't connect via VPN.... Interestingly she was told that EE block VPN when she rang the EE helpline yesterday.
The following info may be of use:
DSL STATUS
This page shows information about your DSL connection. If you are using Ethernet Broadband then this page is not applicable.
STATUS
Configured Current
Line Status -- UP
Link Type -- Fast Path
Operation Mode Automatic G.993.2 (VDSL2)
DATA RATE INFORMATION
Upstream 20000 (Kbps)
Downstream 64837 (Kbps)
DEFECT/FAILURE INDICATION
Operation Data Upstream Downstream
Noise Margin 7.0 (dB) 6.2 (dB)
Line Attenuation 0.0 (dB) 15.1 (dB)
Indicator Name Near End Indicator Far End Indicator
Output Power 0.3 (dBm) 0.3 (dBm)
Fast Path FEC Correction 1335 22
Interleaved Path FEC Correction -- --
Fast Path CRC Error 0 0
Interleaved Path CRC Error -- --
Loss Of Signal Defect 0 0
Fast Path HEC Error STR 0 0
Interleaved Path HEC Error -- --
Error Seconds 0 2
STATISTICS
Received Data 7304556 (Kbits)
Transmitted Data 1094256 (Kbits)
SYSTEM LOG
This page shows various system events like administrator login/logout, broadband connection status.
System Uptime is: 02:51:09
Current Time/Date is: 02:51:09 01 Jan
thinkbroadband.com/speedtest Link
https://www.thinkbroadband.com/speedtest/1585131698590355455
Samknows Exchange check
Kettering EMKTTER Northamptonshire East Midlands
Samknows Whitebox (Month) Results
Download Speed (Combined)
59.1 Mbps
Upload Speed (Combined)
17.9 Mbps
Latency
17.6 ms
Packet Loss
0.0154 %
Jitter Down
0.36 ms
Jitter Up
0.43 ms
DNS Response Time
19.8 ms
Failed DNS Queries
0.0192 %
DNS Over HTTPS Response Time
No data available for this date range.
Failed Queries (DNS Over HTTPS)
No data available for this date range.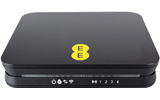 by
XRaySpeX

Grand Master
Re: Work VPN can't connect via Ethernet cable and Brightbox2
Wednesday
EE do not prevent VPN.
__________________________________________________________________________________________
If you think I helped please feel free to hit the "Thumbs Up" button below.

To phone EE: The local rate landline number +44 207 362 0200 or Freephone +44 800 079 8586 - Option 1 for Mobiles; Option 2 for 4G WiFi; Option 3 for Home Broadband & EE TV.

ISPs: 1999: Freeserve 48K Dial-Up => 2005: Wanadoo 1 Meg BB => 2007: Orange 2 Meg BB => 2008: Orange 8 Meg LLU => 2010: Orange 16 Meg LLU => 2011: Orange 20 Meg WBC => 2014: EE 20 Meg WBC