Options
Mark as unread

Mark as read

Float to top

Bookmark

Subscribe (email)
Smart Hub Port Forwarding
Friday
My smart hub ports 8080 and 8081 OK but 8082 to 8086 fails Help please
Helpdesk tells me they don't support port forwarding. Will it have to be a 3rd party hub??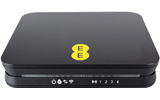 by
XRaySpeX

Grand Master
Re: Smart Hub Port Forwarding
Friday - last edited Friday
What servers are at the end of those ports? Are they all up & running? Can you see them from within your LAN using their local IP addys?
What does ShieldsUP! report the status of your ports when you use its User-Specified Custom Port Probe ?
__________________________________________________________________________________________
If you think I helped please feel free to hit the "Thumbs Up" button below.

To phone EE: The local rate landline number +44 207 362 0200 or Freephone +44 800 079 8586 - Option 1 for Mobiles; Option 2 for 4G WiFi; Option 3 for Home Broadband & EE TV.

ISPs: 1999: Freeserve 48K Dial-Up => 2005: Wanadoo 1 Meg BB => 2007: Orange 2 Meg BB => 2008: Orange 8 Meg LLU => 2010: Orange 16 Meg LLU => 2011: Orange 20 Meg WBC => 2014: EE 20 Meg WBC
Re: Smart Hub Port Forwarding
Saturday
Ive got a Qnap server thats been perfectly ok with a plusnet router till last Monday when I changed over to EE. Its complaining of web connectivity and ports 8082 to 8086 are not working and Im having difficulty logging in with some of the apps. From windows command promt Ive used telnet 95.xxx.xxx.xxx 8080 and all the other ports, also did the same on my own network using telnet 192.xxx.xxx.xxx with exactly the same results, 8080/8081 are ok 8082 to 8086 can't connect. Will give smartup a go later. Have EEs user name and password for my broadband login and was going to see if I can get my old router to work as the line has not changed (its fibre). Thanks for any help Phil
Re: Smart Hub Port Forwarding
Saturday
Sorry forgot to mention have used upnp auto router configuration from my server and also set the ports up manually from Port Forwarding int the EE router, neither worked. Phil