Options
Mark as unread

Mark as read

Float to top

Bookmark

Subscribe (email)

by
jimshrapnel
Explorer
Re: Slow speed on Fiber Plus
‎14-04-2019 03:29 PM - edited ‎14-04-2019 03:39 PM
Hi
I'm going through the same experience since upgrading to fibre plus. I know the line is capable of 72.3 Mbps down as I've had an Openreach engineer out however I am getting the following on the hub.
Even though I'm getting 67 Mbps on the EE Hub I am only getting 60 Mbps down and 15 up,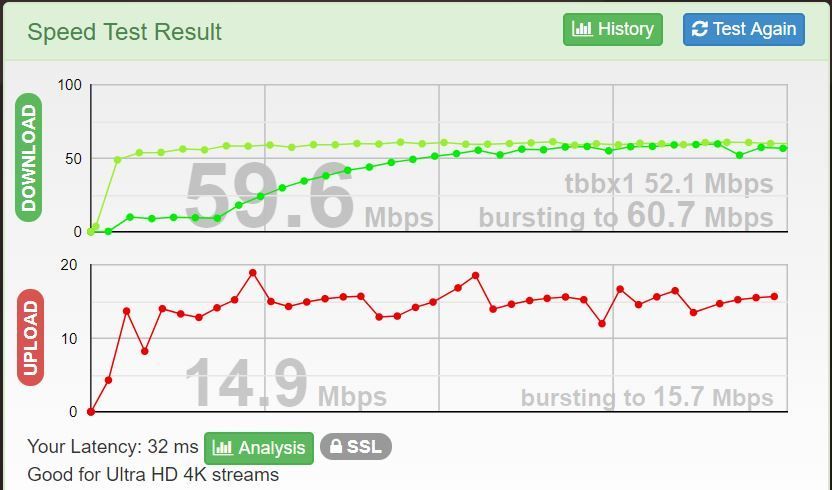 https://www.thinkbroadband.com/speedtest/1555251778595329055
I spoke to EE tech support yesterday and was told I was going down a rabbit hole trying to get a faster speed...pretty technical response I thought! I was even told to try plugging in to a different Ethernet port on the hub. When I said I'm consistently only getting 60 Mbps on speed tests I was told that they're not accurate.
On my EE I'm quoted the following:
Minimum Fibre Download Speed is 66.0 Mb/Sec
Maximum Fibre Download Speed is 72.8 Mb/Sec
Minimum Fibre Upload Speed is 17.3 Mb/Sec
Maximum Fibre Upload Speed is 18.2 Mb/Sec
Minimum Guaranteed Download Speed is 59.30 Mb/Sec
What I am struggling to understand is if the line is capable of 72, why I am I only seeing 67 and further more only able to achieve a max of 60?
I'll be calling them up again and quoting this post so thanks for sharing your experience with what happened with Openreach.
Has anyone else got any other opinion on these results?
Cheers