Options
Mark as unread

Mark as read

Float to top

Bookmark

Subscribe (email)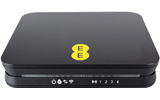 by
XRaySpeX

Grand Master
Port 25 SMTP Unblocked over Home BB Network
‎21-02-2017 09:15 AM
As of today and anticipating the forthcoming Orange email closure Port 25 SMTPs of other email providers are no longer blocked by the EE Home BB network.
This will be of interest to those users whose email provider does not provide as standard a non-port 25 SMTP. These are often domain and email hosting sites rather than the mainstream free email providers.
I do wonder if the same unblocking has been done to the EE mobile network. So, if any of you with EE mobile and able to test port 25 could let me know it would be appreciated.
__________________________________________________________________________________________
If you think I helped please feel free to hit the "Thumbs Up" button below.

To phone EE: The local rate landline number +44 207 362 0200 or Freephone +44 800 079 8586 - Option 1 for Mobiles; Option 2 for 4G WiFi; Option 3 for Home Broadband & EE TV.

ISPs: 1999: Freeserve 48K Dial-Up => 2005: Wanadoo 1 Meg BB => 2007: Orange 2 Meg BB => 2008: Orange 8 Meg LLU => 2010: Orange 16 Meg LLU => 2011: Orange 20 Meg WBC => 2014: EE 20 Meg WBC