Options
Mark as unread

Mark as read

Float to top

Bookmark

Subscribe (email)
by
aleethea777
Visitor
Ongoing Broadband issue, not resolved
3 weeks ago
I have had an ongoing issue with my broadband for months now. I have the fibreplus package.
The connection is intermittent, drops on and off for hours at a time and when it is connected the speed is abysmal (2mbps in some cases). Openreach come out,the issue is fixed for maybe a couple of weeks or if I am lucky a couple of months, then the issue starts again.
On Saturday, the connection dropped 927 times in a single day according to the Openreach engineer. Sunday it dropped 735 times.
EE say it's an Openreach fault. This latest episode, I have had three Openreach engineers out in 8 days and I am no further forward. The connection is cutting out completely for hours at a time, the router flashing yellow. Had someone out yesterday from Openreach who said he can't find an Openreach issue and that the fault must lie with EE. He said he would feed back to them that a Special Fault Investigation needs to be carried out. I contacted EE yesterday following his visit to chase this up to be told that it is definitely not an EE issue but an external fault, so they would need to send another Openreach engineer.
So, yet another Openreach engineer was sent out this morning. Again, he can't find anything wrong from an Openreach point of view and says the fault must lie with EE. Although while he was in my house the Openreach engineer who was out 8 days ago called him and I overheard the conversation - basically he told him its a nightmare job because it's down to crosstalk, and there is nothing that can be done about it.
The Openreach guy that was out today said I need to contact EE again and also suggested that I request a new router as this may be causing the problem - surely if that was the case EE would realise this when performing diagnostic tests?
He was pretty vague on the issue of crosstalk when I asked. I don't really fully understand what it is, but surely something has to be done to fix it? Or am I just to put up with an unreliable connection and slow speeds indefinitely, while paying my bill each month?
I don't know what I can do to get this resolved. EE say it's Openreach, Openreach say it's not.
Anyone got any suggestions? I'm paying for a service that either isn't connected for hours at a time, or runs abysmally slow with no resolution in sight.

by
Leanne_T
EE Community Support Team
Re: Ongoing Broadband issue, not resolved
3 weeks ago - last edited 3 weeks ago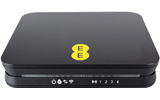 by
XRaySpeX

Grand Master
Re: Ongoing Broadband issue, not resolved
2 weeks ago
Welcome to EE's Home Broadband Forum.

If you would like help with your BB speed or connection issues, please would you carry out the following steps for starters, which will enable us to diagnose the problem and advise you further. Do not restart your router to do these tests:

1. Post your full router stats.
For a BrightBox: login and go to Advanced Settings/ System/ DSL Status. Also post 'System Uptime' from top of System Log page.
For a SmartHub: login and go to Advanced Settings/ Technical Log/ Information.
Full router stats are key to any speed & connection issues.

2. Try a wired speedtest, using an Ethernet cable supplied with the router, here http://www.thinkbroadband.com/speedtest.html . Click on the "Results Page" button at the bottom of the graph you first see and then copy to here just the "Link to this result:" link that you see below the next main graph.

3. What exchange are you connected to? If you don't know use: http://www.samknows.com/broadband/exchange_search and post the URL of your exchange page.
4. What does BT Broadband Availability Checker estimate for your phone number? Post just the whole table and the line above it, blanking out your phone number. If it doesn't recognise your phone number, use the Address Checker, not the Postcode Checker.
__________________________________________________________________________________________
If you think I helped please feel free to hit the "Thumbs Up" button below.

To phone EE: The local rate landline number +44 207 362 0200 or Freephone +44 800 079 8586 - Option 1 for Mobiles; Option 2 for 4G WiFi; Option 3 for Home Broadband & EE TV.

ISPs: 1999: Freeserve 48K Dial-Up => 2005: Wanadoo 1 Meg BB => 2007: Orange 2 Meg BB => 2008: Orange 8 Meg LLU => 2010: Orange 16 Meg LLU => 2011: Orange 20 Meg WBC => 2014: EE 20 Meg WBC