Options
Mark as unread

Mark as read

Float to top

Bookmark

Subscribe (email)
My ee brightbox 2 connection drops whenever a new device connects.
4 weeks ago
When someone comes home and their phone connects to the wifi, my connection drops really hard. My ping goes from about 30ms to 200-5000ms. I can basically tell when someone gets home because my online games start lagging really hard. It isn't a problem with my computer or NIC because this didn't happen with our old BT router, and this happens on other devices too. If nesessary i could get yall a router log of when this happens, thanks.
Highlighted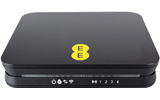 by
XRaySpeX

Grand Master
Re: My ee brightbox 2 connection drops whenever a new device connects.
4 weeks ago
@GodIsDead35 : Welcome to EE's Home Broadband Forum.

If you would like help with your BB speed or connection issues, please would you carry out the following steps for starters, which will enable us to diagnose the problem and advise you further. Do not restart your router to do these tests:

1. Post your full router stats.
For a BrightBox: login and go to Advanced Settings/ System/ DSL Status. Also post 'System Uptime' from top of System Log page.
For a SmartHub: login and go to Advanced Settings/ Technical Log/ Information.
Full router stats are key to any speed & connection issues.

2. Try a wired speedtest, using an Ethernet cable supplied with the router, here http://www.thinkbroadband.com/speedtest.html . Click on the "Results Page" button at the bottom of the graph you first see and then copy to here just the "Link to this result:" link that you see below the next main graph.

3. What exchange are you connected to? If you don't know use: http://www.samknows.com/broadband/exchange_search and post the URL of your exchange page.
__________________________________________________________________________________________
If you think I helped please feel free to hit the "Star" button below.

To phone EE: The local rate landline number +44 207 362 0200 or Freephone +44 800 079 8586 - Option 1 for Mobiles; Option 2 for 4G WiFi; Option 3 for Home Broadband & EE TV.

ISPs: 1999: Freeserve 48K Dial-Up => 2005: Wanadoo 1 Meg BB => 2007: Orange 2 Meg BB => 2008: Orange 8 Meg LLU => 2010: Orange 16 Meg LLU => 2011: Orange 20 Meg WBC => 2014: EE 20 Meg WBC
Re: My ee brightbox 2 connection drops whenever a new device connects.
3 weeks ago
Thanks for the reply.
1: Here are my router stats. System uptime is: 19:52:22.
2: It isn't really possible for me to do an ethernet speed test, I imagine I would get about 14Mb/s down though, as that is what the router gets. My PC (connencted via wifi) gets about 8Mb/s down.
3: I am connected to the LWWRA wraysbury exchange.