Options
Mark as unread

Mark as read

Float to top

Bookmark

Subscribe (email)

by
Mog101

Investigator
‎30-10-2019 12:11 PM
Hi.
Currently our FTTC broadband is pretty slow (10mb), but Openreach have recently laid fibre to a new cabinet about 100 yrds from our property. A friend who is a former senior internet engineer with BT mentioned that should make significantly faster broadband available to us.
I'm keen to see what options there are for upgrading broadband speed, and interested in looking at Fibre to the premises.
When I search on the EE website it looks as though 10mb is still the only option selectable at our postcode. I've tried contacting Openreach to confirm whether new speeds/options have been enabled yet, but they just refer me back to current provider (EE).
Any help much appreciated as 10mb just isnt enough for a busy family all working/streaming at the same time.
Cheers
Mog
1 SOLUTION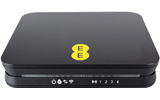 by
XRaySpeX

Grand Master
Solution
4 weeks ago - last edited 4 weeks ago
You won't get FTTP there from any ISP. The best you can get at the mo' is "Up to 18 Meg" FTTC from any ISP. What was the line above the table, obscuring your phone no?
1. Post your full router stats.
For a BrightBox: login and go to Advanced Settings/ System/ DSL Status. Also post 'System Uptime' from top of System Log page.
For a SmartHub: login and go to Advanced Settings/ Technical Log/ Information.
Full router stats are key to any speed & connection issues.

2. . What exchange are you connected to? If you don't know use: http://www.samknows.com/broadband/exchange_search and post the URL of your exchange page.
__________________________________________________________________________________________
If you think I helped please feel free to hit the "Thumbs Up" button below.

To phone EE: The local rate landline number +44 207 362 0200 or Freephone +44 800 079 8586 - Option 1 for Mobiles; Option 2 for 4G WiFi; Option 3 for Home Broadband & EE TV.

ISPs: 1999: Freeserve 48K Dial-Up => 2005: Wanadoo 1 Meg BB => 2007: Orange 2 Meg BB => 2008: Orange 8 Meg LLU => 2010: Orange 16 Meg LLU => 2011: Orange 20 Meg WBC => 2014: EE 20 Meg WBC