Options
Mark as unread

Mark as read

Float to top

Bookmark

Subscribe (email)

by
Paskauskaite11
Visitor
Hello I want change address
4 weeks ago
Hello I change address. And doesn't work internet
by
Northerner

Grand Master
Re: Hello I want change address
4 weeks ago
If you cannot change it online, give EE a call on 150.
Thanks
---
To contact EE Customer Services dial 150 From your EE mobile or 07953 966 250 from any other phone.

EE standard opening hours are 8am to 9pm weekday, 8am to 8pm on weekends.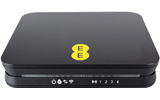 by
XRaySpeX

Grand Master
Re: Hello I want change address
4 weeks ago
You can't change your addy in your MyEE for BB. You would need to contact CS for that.
But why do you want to change your addy? Your BB is fixed to your addy & to move it to another addy you would have to inform EE anyway so they could transfer it.
__________________________________________________________________________________________
If you think I helped please feel free to hit the "Thumbs Up" button below.

To phone EE: The local rate landline number +44 207 362 0200 or Freephone +44 800 079 8586 - Option 1 for Mobiles; Option 2 for 4G WiFi; Option 3 for Home Broadband & EE TV.

ISPs: 1999: Freeserve 48K Dial-Up => 2005: Wanadoo 1 Meg BB => 2007: Orange 2 Meg BB => 2008: Orange 8 Meg LLU => 2010: Orange 16 Meg LLU => 2011: Orange 20 Meg WBC => 2014: EE 20 Meg WBC

by
Jon_K
EE Community Support Team
Re: Hello I want change address
4 weeks ago
Hi @Paskauskaite11.
Thanks for coming to the community.
If you get in touch with our Mobile Care team, they will be able to change your address for you.
Jon 🙂