Options
Mark as unread

Mark as read

Float to top

Bookmark

Subscribe (email)
Highlighted

by
JamesAnderson

Investigator
1 SOLUTION
Highlighted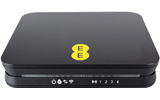 by
XRaySpeX

Grand Master
Solution
‎12-05-2019 11:58 AM
Thanks. Ah, all becomes clear & explains everything.
Your local cab. can only supply you with FTTP (Fibre to the Premises) & standard ADSL.
EE doesn't sell FTTP at all anywhere but BT does.
EE does sell the similar speed up to 330 Meg G.Fast which it calls Fibre Max but it's not available at your cab.
EE also sells up to 80 Meg FTTC which it calls Fibre & Fibre Plus but it's not available at your cab. There are 2 other cabs nearby ("around the corner") that do this but you won't be moved to these.
Therefore the only BB EE can & does offer you is the 17 Meg standard ADSL.
The 31 Meg that EE also offers you is not landline BB but mobile BB with a 4GEE mobile router.
__________________________________________________________________________________________
If you think I helped please feel free to hit the "Thumbs Up" button below.

To phone EE: The local rate landline number +44 207 362 0200 or Freephone +44 800 079 8586 - Option 1 for Mobiles; Option 2 for 4G WiFi; Option 3 for Home Broadband & EE TV.

ISPs: 1999: Freeserve 48K Dial-Up => 2005: Wanadoo 1 Meg BB => 2007: Orange 2 Meg BB => 2008: Orange 8 Meg LLU => 2010: Orange 16 Meg LLU => 2011: Orange 20 Meg WBC => 2014: EE 20 Meg WBC