Options
Mark as unread

Mark as read

Float to top

Bookmark

Subscribe (email)
Highlighted

by
Tafflad
New Member
Tuesday
I need to put a temporary call fwd in place as I don't have my mobile ...... can I put in call FWD to another mobile via a landline, or is there a support number I can call to do this ,,,,
Highlighted
by
bristolian

Ace Contributor
Re: Call Fwd from a landline
Tuesday
Hi @Tafflad
If you don't have access to whatever phone your SIM is in, then I'm afraid there's no way to set a divert, no.
If you've got a PIN on your answerphone, then you could dial into your voicemail from any other phone and set a recorded announcement asking callers to call another number.
Highlighted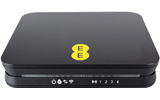 by
XRaySpeX

Grand Master
Re: Call Fwd from a landline
Tuesday
@Tafflad : You need to have bought the Call Plus add-on for £5 pm to use Call Divert -see How do I use the features on my EE home phone?
If you are not talking about an EE landline then that landline provider should have similar chargeable features.
__________________________________________________________________________________________
If you think I helped please feel free to hit the "Thumbs Up" button below.

To phone EE: The local rate landline number +44 207 362 0200 or Freephone +44 800 079 8586 - Option 1 for Mobiles; Option 2 for 4G WiFi; Option 3 for Home Broadband & EE TV.

ISPs: 1999: Freeserve 48K Dial-Up => 2005: Wanadoo 1 Meg BB => 2007: Orange 2 Meg BB => 2008: Orange 8 Meg LLU => 2010: Orange 16 Meg LLU => 2011: Orange 20 Meg WBC => 2014: EE 20 Meg WBC