Options
Mark as unread

Mark as read

Float to top

Bookmark

Subscribe (email)
Highlighted
by
Lisa2930

Investigator
‎20-05-2019 10:37 PM
Hi, today I bought the fibre plus broadband in one of your shops, specifying that I don't have a landline. Now I've just received an email telling me that billing will start as soon as the landline will be activated. But I don't have one, so what do I do now? Thank you
1 SOLUTION
Highlighted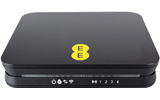 by
XRaySpeX

Grand Master
Solution
‎20-05-2019 11:13 PM - edited ‎20-05-2019 11:14 PM
The cost of the landline is already included in the price of the BB. No contract is required for the handset. You just buy it, probably for under £10.
If you do start making chargeable calls you will be charged on a per min. basis. Freephone 0800 calls are free & so are any received calls.
Thanks! You're welcome 🙂 ! Glad I could be of assistance.
__________________________________________________________________________________________
If you think I helped please feel free to hit the "Thumbs Up" button below.

To phone EE: The local rate landline number +44 207 362 0200 or Freephone +44 800 079 8586 - Option 1 for Mobiles; Option 2 for 4G WiFi; Option 3 for Home Broadband & EE TV.

ISPs: 1999: Freeserve 48K Dial-Up => 2005: Wanadoo 1 Meg BB => 2007: Orange 2 Meg BB => 2008: Orange 8 Meg LLU => 2010: Orange 16 Meg LLU => 2011: Orange 20 Meg WBC => 2014: EE 20 Meg WBC