Options
Mark as unread

Mark as read

Float to top

Bookmark

Subscribe (email)
Highlighted

by
ATRG
New Member
Broadband - contract coming to an end
Tuesday
Hi
I cant actually find the date my broadband contract expires. Where can I find this?
What are the out of contract prices and will someone from EE be contacting to open another contract?
Highlighted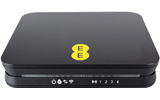 by
XRaySpeX

Grand Master
Re: Broadband - contract coming to an end
Tuesday - last edited Tuesday
It was in your Welcome email. You won't find it anywhere in your MyEE for BB. If you haven't kept your email you will need to call EE to enquire.
EE should be sending you reminders & your options as you approach that time.
When you reach the end of your min. contract term your bill will increase as you would've been informed when you took it out. You can see this even now with EE's current offers:
54-73 Mb/s

estimated download speed range

£27 a month, 18 month contract, then £42 a month
Which EE BB package do you have?
Instead of letting your current contract run on at the higher price, all you have to do is commit to a new 18-month contract for the same BB package at a lower price than you are paying now. You can do this online thro' your MyEE for BB under Change your broadband plan .
__________________________________________________________________________________________
If you think I helped please feel free to hit the "Thumbs Up" button below.

To phone EE: The local rate landline number +44 207 362 0200 or Freephone +44 800 079 8586 - Option 1 for Mobiles; Option 2 for 4G WiFi; Option 3 for Home Broadband & EE TV.

ISPs: 1999: Freeserve 48K Dial-Up => 2005: Wanadoo 1 Meg BB => 2007: Orange 2 Meg BB => 2008: Orange 8 Meg LLU => 2010: Orange 16 Meg LLU => 2011: Orange 20 Meg WBC => 2014: EE 20 Meg WBC