Options
Mark as unread

Mark as read

Float to top

Bookmark

Subscribe (email)
by
CFaraday

Investigator
2 weeks ago
Hi,
As well as my recent mobile phone bill being incorrect. I've just checked my first broadband bill (line activated yesterday)....I was contacted by EE and offered your broadband at £26 pcm, with no up front set up or equipment/engineer costs (the phone call specifically stated these would be waived as I was an existing customer), I've then had to wait several weeks for the line to actually be activated after problems your end, only to find that my first bill is in fact £76, which includes a £50 set up fee of some kind. To say I'm slightly furious is putting it lightly. First I chose EE due to the benefits offered in the phone call where YOU contacted ME to OFFER me all upfront costs be waived, second I had to wait weeks for the line to be activated and could've gone with someone else (my neighbours had BT trucks outside their houses within days).
Please refund the upfront £50 cost as this was specifically used as a selling point when j agreed to use EE for my home broadband.
BW
Chris Faraday
by
Northerner

Grand Master
2 weeks ago
Hi @CFaraday
There is no account access on these forums.
For billing issues then you will need to speak to EE CS.
Thanks
---
To contact EE Customer Services dial 150 From your EE mobile or 07953 966 250 from any other phone.

EE standard opening hours are 8am to 9pm weekday, 8am to 8pm on weekends.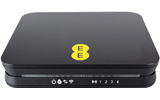 by
XRaySpeX

Grand Master
2 weeks ago
Did you already have a BT based landline at your property?
I think what has been waived is the £15 set-up fee for EE Fibre BB but the £50 is for a "New line engineer visit" which is required if your property does not have a BT compatible phone line already in place.
__________________________________________________________________________________________
If you think I helped please feel free to hit the "Thumbs Up" button below.

To phone EE: The local rate landline number +44 207 362 0200 or Freephone +44 800 079 8586 - Option 1 for Mobiles; Option 2 for 4G WiFi; Option 3 for Home Broadband & EE TV.

ISPs: 1999: Freeserve 48K Dial-Up => 2005: Wanadoo 1 Meg BB => 2007: Orange 2 Meg BB => 2008: Orange 8 Meg LLU => 2010: Orange 16 Meg LLU => 2011: Orange 20 Meg WBC => 2014: EE 20 Meg WBC