Options
Mark as unread

Mark as read

Float to top

Bookmark

Subscribe (email)

by
kayleightee
New Member
Broadband Order Cancellation
4 weeks ago
Having placed an order for EE Broadband and TV on June 14 2019, I am confused why I got an email today informing me that I had cancelled it.
"We're sorry to hear that you'd like to cancel your recent new order, reference 23138991: we've now done this for you. "
I have not cancelled any order and was looking forward to this being activated by the coming Friday.
Why would EE think I had cancelled an order when neither myself or my partner haven't?
I can't even re-order as it says my order is still in the system.
Is this a regular occurrence?
Highlighted

by
Watkins07

Star Contributor
Re: Broadband Order Cancellation
4 weeks ago
Hi @kayleightee
I think your best bet is to get in touch with customer service to see what's happened. Hopefully it will be easily sorted for you. X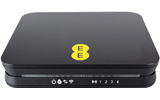 by
XRaySpeX

Grand Master
Re: Broadband Order Cancellation
4 weeks ago
You will need to phone EE to discuss that.
Are you ordering BB on an existing landline? Are you the account holder for that landline? If not, perhaps the account holder objected.
__________________________________________________________________________________________
If you think I helped please feel free to hit the "Star" button below.

To phone EE: The local rate landline number +44 207 362 0200 or Freephone +44 800 079 8586 - Option 1 for Mobiles; Option 2 for 4G WiFi; Option 3 for Home Broadband & EE TV.

ISPs: 1999: Freeserve 48K Dial-Up => 2005: Wanadoo 1 Meg BB => 2007: Orange 2 Meg BB => 2008: Orange 8 Meg LLU => 2010: Orange 16 Meg LLU => 2011: Orange 20 Meg WBC => 2014: EE 20 Meg WBC

by
Leanne_T
EE Community Support Team
Re: Broadband Order Cancellation
4 weeks ago
Hi @kayleightee
Thanks for coming here.
If you can give our Broadband team a call on 0207 362 0200, we will be able to get this looked into for you.
Let us know how you get on 🙂
Leanne.