Options
Mark as unread

Mark as read

Float to top

Bookmark

Subscribe (email)
4 weeks ago
My friends BB2 time settings keep going back to 00.00 jan 01. Ive read through similar topics on here but i cant see any solutions its NOT tbe time sever because it works for hours after a factory reset and immediately after it goes I factory reset and it works again... I have noticed that a DoS attack is detected hours/mins before it apparently restarts firmware with no time sync? I would appreciate some honest answers from Ee and the link for the pre-updated firmware. Thanks

by
Chris_B

Grand Master
4 weeks ago
@Mikey13 You'll not get a link to any pre updated software as EE don't post these are they are pushed to the router via the network. You could try searching the web put you'll probably find it will auto update again.


if you require to speak with EE you'll need to call customer services, but your friend will have to call and then request that you can speak on there behalf.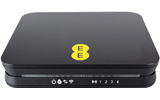 by
XRaySpeX

Grand Master
4 weeks ago
Yes, you've led me to discover my BB2's time went back to 1st Jan 9 days ago. I won't factory reset cuz I've many of my own settings on it.
---

@Mikey13 wrote:


I have noticed that a DoS attack is detected hours/mins before

---
Was the DoS attack from 1 of your own devices on your LAN. It sometimes does that.
__________________________________________________________________________________________
If you think I helped please feel free to hit the "Thumbs Up" button below.

To phone EE: The local rate landline number +44 207 362 0200 or Freephone +44 800 079 8586 - Option 1 for Mobiles; Option 2 for 4G WiFi; Option 3 for Home Broadband & EE TV.

ISPs: 1999: Freeserve 48K Dial-Up => 2005: Wanadoo 1 Meg BB => 2007: Orange 2 Meg BB => 2008: Orange 8 Meg LLU => 2010: Orange 16 Meg LLU => 2011: Orange 20 Meg WBC => 2014: EE 20 Meg WBC
4 weeks ago
Hi, the address of the attacker is random and not an ip of any device on my router.
You can back up your settings. I've found i can get three days if im lucky by resetting, changing password, then restoring (change password to your new one after restore).
I have time schedules which are pointless atm.
My theory is that the bug maybe linked to the blocking of all tcp/upd ports maybe it applies it universally hence no server.. I don't know but im going to test.
I do have a new router from EE to try but it doest seem to have the MAC address control of the BB2? So im reluctant to use it.