Options
Mark as unread

Mark as read

Float to top

Bookmark

Subscribe (email)

by
t8769

Established Contributor
Wednesday - last edited Wednesday
Many problems getting my printer to connect, was told by Cannon that this is a problem with some EE routers, and the WPS button has to be activated for it to work.
Anyone know how this is one of if it is a problem?
Hub about 14 months old.
1 SOLUTION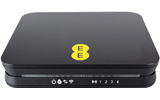 by
XRaySpeX

Grand Master
Solution
Thursday - last edited Thursday
Sorry, I misidentified your router ☹️ . That's the BrightBox 2. The WPS button is on top centre. It is by default deactivated.
Login to your BB2 at http://192.168.1.1 as "admin" with the admin password on the label on the back of the router and navigate to Advanced / Wireless Settings / Wi-Fi Protected Setup & select Wi-Fi Protected Setup (WPS) : Enable . Then SAVE SETTINGS.
__________________________________________________________________________________________
If you think I helped please feel free to hit the "Thumbs Up" button below.

To phone EE: The local rate landline number +44 207 362 0200 or Freephone +44 800 079 8586 - Option 1 for Mobiles; Option 2 for 4G WiFi; Option 3 for Home Broadband & EE TV.

ISPs: 1999: Freeserve 48K Dial-Up => 2005: Wanadoo 1 Meg BB => 2007: Orange 2 Meg BB => 2008: Orange 8 Meg LLU => 2010: Orange 16 Meg LLU => 2011: Orange 20 Meg WBC => 2014: EE 20 Meg WBC