Options
Mark as unread

Mark as read

Float to top

Bookmark

Subscribe (email)
by
jayrocca
New Member
4GEE Home Router - Adding the antenna
3 weeks ago
Hi All!

Couple of questions i was hoping someone might be able to help with?

1) Do EE still give you the option of installing the antenna outside for the 4GEE Home Router?
2) Does anyone have any experience how how effective the antenna is? Appreciate there are some factors to consider etc but just a general, "yes its worth getting one installed" or a "no don't bother".
3) Last question, is EE signed up to the rural gigabit broadband voucher scheme?


Many thanks in advance.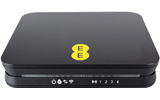 by
XRaySpeX

Grand Master
Re: 4GEE Home Router - Adding the antenna
3 weeks ago - last edited 3 weeks ago
1) Yes. See 4GEE HOME ROUTER
__________________________________________________________________________________________
If you think I helped please feel free to hit the "Thumbs Up" button below.

To phone EE: The local rate landline number +44 207 362 0200 or Freephone +44 800 079 8586 - Option 1 for Mobiles; Option 2 for 4G WiFi; Option 3 for Home Broadband & EE TV.

ISPs: 1999: Freeserve 48K Dial-Up => 2005: Wanadoo 1 Meg BB => 2007: Orange 2 Meg BB => 2008: Orange 8 Meg LLU => 2010: Orange 16 Meg LLU => 2011: Orange 20 Meg WBC => 2014: EE 20 Meg WBC

by
Leanne_T
EE Community Support Team
Re: 4GEE Home Router - Adding the antenna
3 weeks ago
Hello @jayrocca
Thanks for coming here.
If you get in touch with our Home Broadband team on 0800 079 0131, they will be able to help you 🙂
Thanks.
Leanne.