TiffJ
EE Community Manager
It's that time of year when you might be thinking of getting fit and healthy, or maybe you've already started and just need a bit of extra motivation to keep you going. Well, we've got just the thing!
You probably know Jamie Laing best as a reality TV star, but did you know he owns his own gourmet sweet company, Candy Kittens, and his great-great-grandad invented Digestives and Jaffa Cakes? (Mmm, Jaffa Cakes...)

But there'll be no sweet treats for the next week or so. We've paired Jamie up with top TV fitness trainer and former SAS operative Ollie Ollerton to get Jamie fully prepared to take on an SAS-inspired fitness challenge at the end of the month.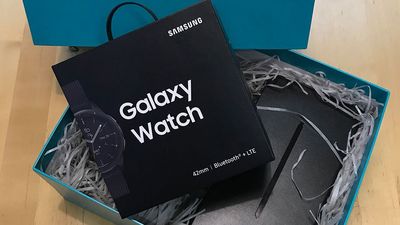 The Samsung Galaxy Watch 4G

What's more, we'll be strapping them both up with the Samsung Galaxy Watch 4G to help them train more effectively and track their progress.

The Samsung Galaxy Watch 4G is great. You can use it to make and take calls, send and receive texts, emails and messages, listen to music, and even pay for products with a tap of your wrist – all without having your phone handy.

And more importantly for this challenge, Jamie and Ollie will be able to accurately track each of their training exercises on their watch to build an accurate picture of their progress before the big event.

If you take a look at Jamie's Instagram you'll see that he likes to look after himself and stay in shape – you never know when that beach in Marbella or Ibiza is going to come calling. But don't worry if you're just starting out, we've got some great tips on how to use the Galaxy Watch 4G to improve your fitness coming up too.

You can track Jamie and Ollie's progress on our Samsung hub, where you'll also find lots of useful tips and information about how to get fit and healthy with Samsung.
And you can buy the Galaxy Watch 4G here >
Discussing tactics?
What do you think? Is Jamie up for the challenge? Let us know by commenting below!
Want to get fit and healthy with the Samsung Galaxy Watch 4G too? Follow our Features and Articles over on the EE website for some less intensive training ideas and routines soon.
UPDATE: The training has begun! Check out the latest update and watch a video of their first session>
You must be a registered user to add a comment. If you've already registered, sign in. Otherwise, register and sign in.