Options
Mark as unread

Mark as read

Float to top

Bookmark

Subscribe (email)
Highlighted

by
Leanne_T
EE Community Support Team
Unboxing Samsung Galaxy S10: What you need to know
‎20-02-2019 09:01 PM - edited ‎20-02-2019 09:03 PM
Samsung has launched three versions of their latest smartphone: Galaxy S10, S10+ and S10e. Can't decide which to pick? Learn about their features and functions here.
Samsung Galaxy S10+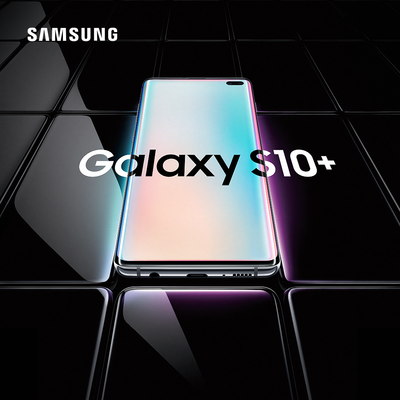 Samsung Galaxy S10+

The Galaxy S10+ is the biggest of the bunch, with a 6.4-inch curved display. It also features the most cameras – three on the back and two on the front. The three lenses on the back let you capture wide and ultra-wide-angle shots, as well as zoomed in images. The two front-facing cameras help you take stunning selfies with blurred backgrounds.
All three phones are seriously fast and come with plenty of internal storage space to keep your photos, videos and music handy. But the Galaxy S10+ is also available in a 12GB and 1TB version – put simply, that means it's more powerful than most laptops and can store thousands of films and hundreds of thousands of photos.

An Ultrasonic Fingerprint Scanner means you can quickly and securely open your phone by placing your finger on the screen, even in the rain and in bright sunlight. Plus, the PowerShare feature lets you share your battery power with other compatible phones simply by placing the phones on top of each other.
The full range of Sansung Galaxy S10 phones
Samsung Galaxy S10
The Samsung Galaxy S10 has many of the same features as its bigger brother, but in a more compact frame with a 6.1-inch curved display. It still has three cameras on the back, but only one on the front.

And just like the Galaxy S10+, the Galaxy S10 features Samsung's new Infinity-O Display. This new type of display is almost completely uninterrupted – there's no home button, no black bars across the top and barely any bezels around the edges. Just a small dot in the top corner where the front-facing camera sits (two cameras on the S10+).

It means the Galaxy S10 is great for immersing yourself in films and TV shows, or for showing off your photos and browsing websites.
Samsung Galaxy S10e

The Galaxy S10e is designed for people who like compact phones that fit easily into their hand and lifestyle. The Galaxy S10e has a 5.8-inch Infinity-O Display, but unlike the other two phones, this one is flat and stretches from side to side. It all boils down to a matter of personal preference – some like curved screens, while others prefer flat ones.

The Galaxy S10e is the most affordable of the three phones and that's partly due to having two cameras on the back instead of three and one camera on the front. A 16-megapixel ultra-wide lens and 12-megapixel zoom lens helps you capture epic cinematic shots and detailed close-ups from far away.

A Side Fingerprint Scanner lets you quickly and securely unlock your phone while holding it naturally – so you don't have to enter in a PIN, passcode, or scramble around for the fingerprint scanner on the back of the phone.

Finally, all three phones also feature Samsung's new user-interface, One UI. It basically makes using your Galaxy S10 much easier. The way you navigate your phone and perform everyday tasks has been redesigned, so it's simpler to use your phone with just one hand. And there's even a new Night mode that helps you view content more comfortably in low light.
Pre-order your Samsung Galaxy S10 >
Find out more about why you should get a Samsung Galaxy on EE>