Options
Mark as unread

Mark as read

Float to top

Bookmark

Subscribe (email)

by
Leanne_T
EE Community Support Team
The new 4G Samsung Galaxy Watch - buy yours today
‎01-11-2018 10:53 AM - edited ‎09-04-2019 09:54 AM
Galaxy Watch 4G

The new 4G-connected Samsung Galaxy Watch is available to buy now exclusively on EE – letting you connect to our fast 4G network without having to use your phone.

It's available in two sizes. The 46mm watch comes in Silver, while the 42mm watch comes in Rose Gold and Midnight Black.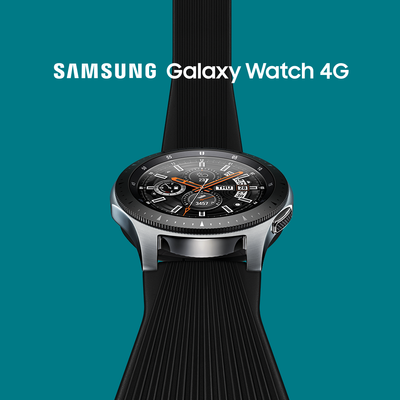 Samsung Galaxy Watch 4G
Why should I buy a 4G-connected smartwatch?

With 4G connectivity, the Galaxy Watch lets you leave home without your phone while still keeping you connected.

A quick glance at your smartwatch will keep you up to date with your messages, notifications, diary appointments, news updates and much more. Plus, you can make and receive calls right from your wrist.

You can even listen to your Spotify playlists while you're out jogging or shopping. All you need is a pair of wireless headphones and a premium Spotify account*.

Is the Galaxy Watch good for fitness?

Carrying a phone while lifting weights, jogging through the park or doing yoga isn't ideal. With the Galaxy Watch all your steps, exercise and activity is automatically tracked. There's even tracking for specific sports such as hiking and swimming – yep, you can take it in the pool with you or wear it in the shower**.

Everything syncs seamlessly too, so if you use the Samsung Health app on your smartphone, all your information – heart rate, steps, calories burned – will be there.

Can I use my Galaxy Watch to pay for things?
With the 4G-connected Galaxy Watch you can pay for everyday items with a tap of your wrist and without your phone.

With Samsung Pay on board, simply register your payment cards with the app and tap your watch against most card readers (some older card readers – like the ones sometimes found in petrol stations – may not work). It's quick, secure, and saves you from having to rummage around for loose change at the checkout†.
What else can my Samsung smartwatch do?

If the winter weather has you feeling frozen, at least you can now come home to a warm and cosy home. The Galaxy Watch connects seamlessly to smart home devices such as Nest and Hive smart thermometers and Philips WiFi-connected light bulbs.

Turn the heating up and turn lights off straight from your Galaxy Watch. Even when you're away from your house you can control your home.

What phones can I use with the Galaxy watch?

You can use the new 4G Samsung Galaxy watch with the following phones:
Samsung A3 (2017)
Samsung A5 (2017)
Samsung A6 (2018)
Samsung A7 (2018)
Samsung A8 (2018)
Samsung A9 (2018)
Samsung J3 (2017)
Samsung J4 Plus (2018)
Samsung J5 (2017)
Samsung J6 (2018)
Samsung J6 Plus (2018)
Samsung Xcover 4
Samsung S7
Samsung S7 Edge
Samsung S8
Samsung S8+
Samsung S9
Samsung S9+
Samsung Note 8
Samsung Note 9
Samsung Galaxy S10
Samsung Galaxy S10+
Samsung Galaxy S10e

Buy your Galaxy Watch now
*Pre-installation of the Spotify app required
**Galaxy Watch has ISO 22810:2010 certification for 5 ATM rating of 50 meters (165 feet) under specific conditions. This means that both devices are safe to wear while walking in the rain or showering, and may be used for shallow-water activities like swimming in a pool or ocean. However, the Galaxy Watch should not be used for scuba diving, water-skiing, or other activities involving high-velocity water or submersion below shallow depth.
† Available with participating networks, banks and merchants on selected devices, on NFC terminals. A limit of £30 may apply, based on merchant policies. Corporate cards currently not in scope