Options
Mark as unread

Mark as read

Float to top

Bookmark

Subscribe (email)
Highlighted
by
Northerner

Grand Master
LG G6 tips, tricks and things I found useful
‎21-04-2017 12:21 AM
Hi,
I'm currently using this phone as my daily driver so thought I would share some tips and features I really like.
Capture +
Capture +
You can take screenshots as normal (holding volume down and power button) but this app allows you to also add text or doodle on the image. It has an various features such as five different brush types, text editor, shape cutting tool, choice of paper to name just a few.
If you use it in the web browser you can capture just the screen or the whole extended web page!
One you are done you can share, save in the gallery or save as a Quickmemo +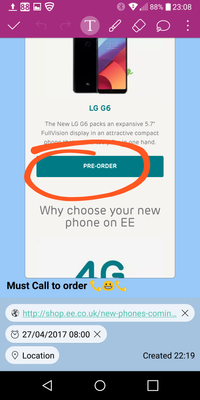 If you save to Quickmemo + then you can also add additional media such as photos or video/audio clips. As you can see you can also set alarms, web links and location data.
You don't need to use Capture + to use Quickmemo + as this can be used independently to record and set reminders. Its a great app.
FM Radio:
Old school but if you don't want to use your data and like listening to the radio (you need headphones connected) then this app is a great addition. It works really well and I didn't suffer any loss of service when I tried it out.
LG Smart World:
LG own apps store with the usual range of themes and apps specifically designed to make use of the LG G6 wonderful screen. At the moment you also get $200 worth of free games via LG G6 game collection.
LG Skin (UX 6)
Unlike other skins such as Touchwiz and Sense LG UI is much less cluttered and easier to navigate. The LG UI is very close to stock and it can be made more familiar by changing the layout to include the apps drawer.
Settings - Home Screen - Select home. (the apps drawer icon is also movable) you can also disable the smart bulletin screen if you don't want to use it and I would recommend changing the icon shape and allowing home screen looping.
Settings - display - KnockON allows you to turn off the display without having to use the power button on the back. Once activated just tap the top of the screen twice to turn off the screen.
Voice Clarity:
Call - Settings - Call settings - More (Noice suppression, Voice Clarity) Only one maybe activated but I found in busy enviroments that having both these options active improved the call.
I hope this was helpful. If you have any questions then please ask. If you have any tips then please share.
---
To contact EE Customer Services dial 150 From your EE mobile or 07953 966 250 from any other phone.

EE standard opening hours are 8am to 9pm weekday, 8am to 8pm on weekends.