Options
Mark as unread

Mark as read

Float to top

Bookmark

Subscribe (email)

by
Damienw1

Brilliant Contributor
Galaxy S9 and S9+ a community stars insight
‎01-03-2018 10:31 AM - edited ‎01-03-2018 10:34 AM
So As a Community Star I was very lucky and indeed honoured to be invited to an EE exclusive event in London on the 9th of February.
This was a top secret event and was all very hush hush but I was given a complete session by a Samsung rep on the s9 and s9+ and yes I even got my own device to play with whilst I was there and I have to say it blew me away!!!
The 2 main things that made it stand out for me were the cameras and the stereo speakers.
Now I know stereo speakers are nothing new and the Samsung rep was open to criticism and when he asked what do you think and I said about time he understood completely.
The cameras blew me away; the slo mo is incredible and the moving aperture is excellent it's also the worlds first smartphone with a f 1.5 so is incredible for low light performance.
They have now combined facial recognition and iris scanning which is super fast and secure for unlocking the device and of course it still has the fingerprint sensor which has been moved further towards the middle of the phone. It still could have been more separate from the camera in my opinion but it is much more usable now without the risk of smudging the camera lens.
And of course one of the other main things that still really matters to me is the headphone jack and it's still there, which I admire considering lots of other flagships have taken it away for what seems like their own reasons.
The S9+ comes with 128gb as standard which I think is a great touch and this can be expanded by up to a further 400gb micro sd should you need it.
We had great fun playing with the AR emojis (more on that below).
With the new Samsung Galaxy S9, you can turn your selfie into an emoji and watch your messaging come alive. You can literally make an animated version of yourself that recreates your movements and expressions. Not only that, you can also customise your emoji with different hairstyles, glasses and even clothes. After creating your animation, you can send it as a GIF or PNG for free using your favourite messaging app, such as WhatsApp or Messenger using mobile data. (Don't forget you may be charged if you send it as a MMS message over your mobile network.)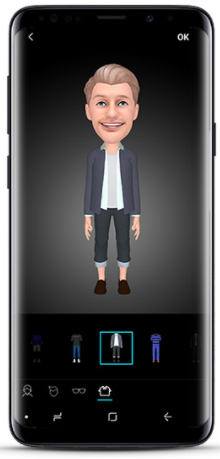 So Great thanks to @TiffJ for inviting me and many thanks to @Imrana_K and @sarah_mc for welcoming me and showing me round and keeping me company.
Any questions feel free to ask
Thanks
Damien
__________________________________________________________________________________________
If you think I helped please feel free to hit the "Star" button below.