Options
Mark as unread

Mark as read

Float to top

Bookmark

Subscribe (email)
Highlighted
by
Cavole20
Explorer
‎12-06-2019 09:04 PM
Hi, i have bought an Apple iPhone XR thinking I could use Dual-SIM functionality for personal & work numbers combined as advertised. Both my contracts are currently on Vodafone & have just realised Apple do not support Vodafone for eSIM function. I have a Vodafone work contract (non negotiable) but am happy to change my personal number to EE network. Can I use an EE SIM as an eSIM for my personal number alongside the Vodafone SIM so that both numbers operate through the one phone? Thank you
1 SOLUTION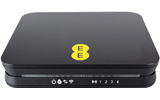 by
XRaySpeX

Grand Master
Solution
‎13-06-2019 12:18 AM
You take out an EE SIM-only contract, which gets you a physical SIM. You then phone EE or go into an EE shop to get the QR code pack to scan to transfer to eSIM.
You may PAC your no. from Voda to EE.
Thanks! You're welcome 🙂 ! Glad I could be of assistance.
__________________________________________________________________________________________
If you think I helped please feel free to hit the "Thumbs Up" button below.

To phone EE: The local rate landline number +44 207 362 0200 or Freephone +44 800 079 8586 - Option 1 for Mobiles; Option 2 for 4G WiFi; Option 3 for Home Broadband & EE TV.

ISPs: 1999: Freeserve 48K Dial-Up => 2005: Wanadoo 1 Meg BB => 2007: Orange 2 Meg BB => 2008: Orange 8 Meg LLU => 2010: Orange 16 Meg LLU => 2011: Orange 20 Meg WBC => 2014: EE 20 Meg WBC