Options
Mark as unread

Mark as read

Float to top

Bookmark

Subscribe (email)
by
infosec

Investigator
TMF 12 Error when attempting to activate Apple Embedded SIM on new IPad Pro
‎29-01-2019 11:20 AM - edited ‎29-01-2019 11:31 AM
Desperately seeking help from an EE employee that can help...
I have just purchased a brand-new (fresh out-of-box) iPad Pro 10.5 Cellular model - and am trying to activate EE Service on the EMBEDDED (i.e., built-in) Apple SIM from the iPad Mobile Data Settings page.
When attempting to select EE from the four available carriers, I see only ever get as far as this "TMF 12" error: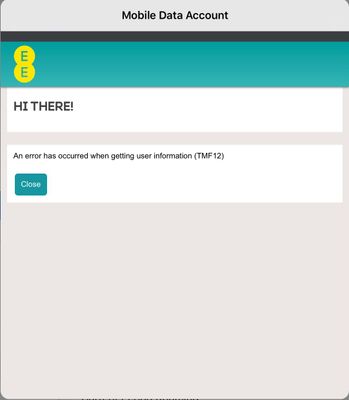 I have called EE Tech Support - who don't appear to have any clue as to what an iPad "embedded Apple SIM" is, or how it's used, suggesting that it's not something supported by at all by the EE network. To my astonishment, EE Tech Support only seem to understand a physical SIM with a contract (which for various reasons is not an appropriate solution for my needs) or eSIM (which is a different and even newer technology applicable to the newest iPhones).
The iPad Pro 10.5" was chosen specifically because of the ability to provision "low cost" mobile data when needed directly from the iPad when travelling - as needed - and not to necessarily tie it to a contract.
I've searched through these forums, and find multiple occurences of the "TMF 12" error described - and posts from EE employees suggesting that this issue is known and at the time being worked upon - but I can't find a single one of these postings where a fix has actually occurred or reported in this Support Community.
At present, I have no idea if the TMF 12 error is a fault with the new iPad - or a problem with EE network or systems. Apple tell me to talk to EE as they are the service provider, which I have tried; EE Tech Support are telling me that EE doesn't support this type of SIM. Obviously, the ability to sign-up for Mobile Data service from the iPad is a feature that EE have deliberately partnered with Apple to provide - but nobody appears to want to help find and fix a problem when it occurs.
At present, I'm desperately trying to establish if this is an EE fault that can be fixed. Apple have run tests on the iPad and tell me there is no fault. For info, the iPad i running the latest version of iOS - 12.1.3.
Help with escalating this problem would be very gratefully received as this is an urgent problem needing a fix.