Options
Mark as unread

Mark as read

Float to top

Bookmark

Subscribe (email)
by
magic77777
Visitor
3 weeks ago
Having purchased the unlimited data plan... Why am I being charged for sending a picture? This is just data right?
1 SOLUTION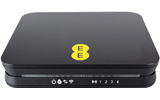 by
XRaySpeX

Grand Master
Re: charges android unlimited data plan
3 weeks ago
No, it's an MMS. They are not included in any plan. They might very well make use of the data network (not your allowance) but you'll be charged about 60p each for them.
__________________________________________________________________________________________
If you think I helped please feel free to hit the "Thumbs Up" button below.

To phone EE: The local rate landline number +44 207 362 0200 or Freephone +44 800 079 8586 - Option 1 for Mobiles; Option 2 for 4G WiFi; Option 3 for Home Broadband & EE TV.

ISPs: 1999: Freeserve 48K Dial-Up => 2005: Wanadoo 1 Meg BB => 2007: Orange 2 Meg BB => 2008: Orange 8 Meg LLU => 2010: Orange 16 Meg LLU => 2011: Orange 20 Meg WBC => 2014: EE 20 Meg WBC
by
davecres

Skilled Contributor
Re: charges android unlimited data plan
a week ago
You have been charged for sending an MMS message which is a separate service and always chargeable. You can turn off sending MMS if on an iPhone.