Options
Mark as unread

Mark as read

Float to top

Bookmark

Subscribe (email)

by
Katie_B
EE Community Support Team
Unpacked 2020: Samsung unveiled the new Galaxy S20, S20+ 5G and S20 Ultra 5G
2 weeks ago - last edited 2 weeks ago
Samsung has just unveiled their latest line-up of flagship smartphones at their annual Unpacked event.

The Samsung Galaxy S20, S20+ 5G and S20 Ultra 5G are now available to pre-order on EE. Pre-order the S20+ 5G or S20 Ultra 5G by 8th March, you'll can also claim free Galaxy Buds+ worth £169.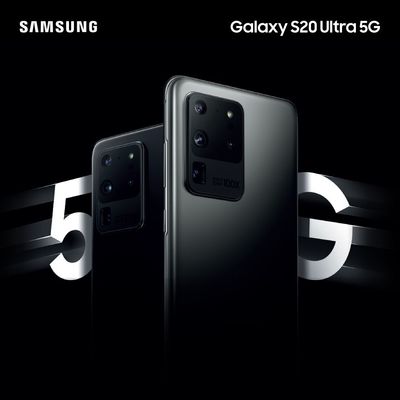 What's new? Samsung Galaxy S20 Ultra 5G
Put simply, these are the best smartphones Samsung has ever released. They set new standards for smartphone photography, video recording, display technology and battery life.
The top-of-the-range Samsung Galaxy S20 Ultra 5G packs in an unbelievable 108MP wide lens camera alongside a 48MP telephoto lens and a 40MP front-facing camera. With these levels of pixel power, you can take the most detailed shots ever on your smartphone, crop and edit them on the 6.9-inch display and blow them up to showcase on your wall without losing any of that glorious detail. The Galaxy S20 Ultra 5G also features a 100x Space Zoom, so you can focus in on the tiniest details from far, far away and make each of those details look epic.
Samsung S20 and S20+ 5G
The Samsung Galaxy S20 and S20+ 5G both feature 64MP telephotos lenses, as well as 12MP wide cameras and 10MP selfie cams. They also have a 30x zoom feature for getting close-up shots of your subject. All three phones are capable of recording video at an incredible 8K resolution and pulling out 33MP stills. All your video clips will look stunning when displayed on a compatible large-screen TV – including Full HD and 4K sets. The entire range also features Single Take, which lets you take one photo/video and then choose from 14 different ways to view the image after you've taken it, including wide-angle and Live Focus.
How does it perform?
Using these phones will feel smoother and slicker than ever before, because they each feature a 120Hz display. Put simply, this means scrolling through webpages on the Galaxy S20's 6.2-inch Infinity-O display or the Galaxy S20+ 5G's 6.7-inch one feels faster and more fluid, and hi-res games and apps look out of this world.
The Samsung Galaxy S20 phones are all available with 5G, so they're perfect on the UK's best 5G network. Alternatively, you can opt for a 4G-only Galaxy S20, which is also great on the UK's best 4G network, with more coverage than anyone else.
Need some help deciding which Samsung Galaxy S20 to go for? We take a closer look >