Options
Mark as unread

Mark as read

Float to top

Bookmark

Subscribe (email)

by

TiffJ
EE Community Manager
How to claim a free Google Home Hub when you buy the Google Pixel 3a or 3a XL
‎30-04-2019 03:26 PM - edited ‎07-05-2019 11:45 AM
I bought a Google Pixel 3a or 3a XL. How do I claim my free Google Home Hub?


If you bought a new Google Pixel 3a or 3a XL between 8th May and 23rd May, you can now claim your free Google Home Hub. You are able to claim your gift from 14 days after you receive your new phone until 45 days after purchase.

Simply visit https://pixel-offers.co.uk/homehub and enter your details. When asked for your IMEI number please ensure you enter the IMEI1 number, which is clearly labelled on the outside of the box for your Google Pixel 3a or 3a XL. Take a look at the image below for more details - you'll see the IMEI1 number on the bottom left of the box in the image: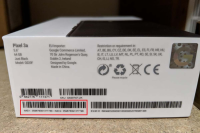 IMEI1 number bottom left hand side
You will also need to provide a proof of purchase to claim your free gift, and you can see examples of these below: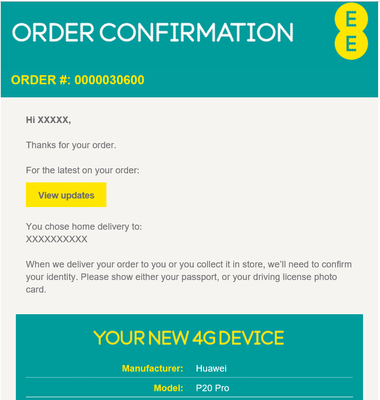 order confirmation
delivery note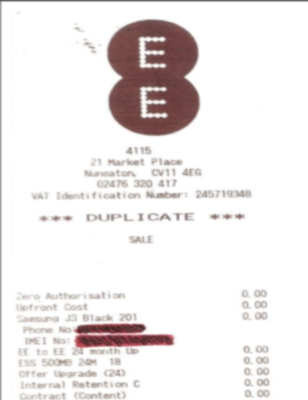 store receipt
When uploading your proof of purchase or delivery note, make sure the time and date are showing so Google can process your claim.

Once you've provided the details and the form has been verified, Google will send you your free Google Home Hub within 60 days of the verified claim.
For full terms and conditions:
Read more
Google Home Free Gift: Promoter is Google UK Limited. To participate, purchase a Google Pixel 3a or 3aXL (a 'Qualifying Product') between 00:01 on 8 May 2019 and 23:59 on 23 May 2019, from an EE Limited outlet in the United Kingdom (a 'Qualifying Retailer') and submit a valid claim at pixel-offers.co.uk/homehub ('Website') between 14 to 45 days from the date of purchase to claim 1 x Google Home Hub ('Promotional Item'). Participants who return their Qualifying Product will not be eligible to claim a Promotional Item. Limited to one claim per purchase of a Qualifying Product. Maximum 2 claims per household. The Promotional Item and Qualifying Product are subject to availability. The Promotional Item will be delivered to an address in the UK within 60 days of a verified claim. See Website for full T&Cs. Other terms apply see ee.co.uk/terms. Charges & information correct as at 25.04.19