Options
Mark as unread

Mark as read

Float to top

Bookmark

Subscribe (email)
Highlighted
by
Julian3
Explorer
‎04-03-2019 11:09 PM
This month I bought a data add on - 2GB for £9.99. But looking at the terms, if I don't use it it by the time my data gets refreshed, it disappears.
I can just about understand that my normal monthly data alloawance doesn't get rolled over (although my kids on Virgin get theirs rolled over, lucky them).
But surely if I spend an extra tenner on data I should get to keep it until I use it?
Perhaps I'm getting this wrong, but it seems that EE are selling me data that that they are then quite literally stealing back from me.
1 SOLUTION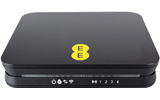 by
XRaySpeX

Grand Master
Solution
‎04-03-2019 11:17 PM
@Julian3: No, as you've been told it only lasts to the end of your bill cycle. If you don't use it, you lose it! That's how it's offered to you:
UK Data5

Monthly Data 1GB

£4.99

Recurring

End of bill cycle (100MB)

£1.99

One-off

End of bill cycle (250MB)

£2.99

One-off

End of bill cycle (1GB)

£7.99

One-off

End of bill cycle (2GB)

£9.99

One-off

End of bill cycle (5GB)

£12.99

One-off

End of bill cycle (10GB)

£19.99

One-off
__________________________________________________________________________________________
If you think I helped please feel free to hit the "Star" button below.

To phone EE: The local rate landline number +44 207 362 0200 or Freephone +44 800 079 8586 - Option 1 for Mobiles; Option 2 for 4G WiFi; Option 3 for Home Broadband & EE TV.

ISPs: 1999: Freeserve 48K Dial-Up => 2005: Wanadoo 1 Meg BB => 2007: Orange 2 Meg BB => 2008: Orange 8 Meg LLU => 2010: Orange 16 Meg LLU => 2011: Orange 20 Meg WBC => 2014: EE 20 Meg WBC